Cooler Master MasterLiquid ML280 Mirror AIO Cooler Review
Author:

Dennis Garcia
Published:
Friday, October 2, 2020

Conclusion
There are several things to consider when looking at a self contained watercooling system. Performance and price are always seem like the most important factors but when you consider that most watercooling units all follow a similar formula it is nice to see something different.
The Cooler Master MasterLiquid ML280 Mirror is an interesting AIO cooler that has radically improves on the dual chamber design. One of the biggest issues with the first version was the position of the hoses and getting the cooler installed. On the ML280 Mirror the hoses are in a neutral location that not only helps with installation but keeps things nice and tidy from a visual standpoint.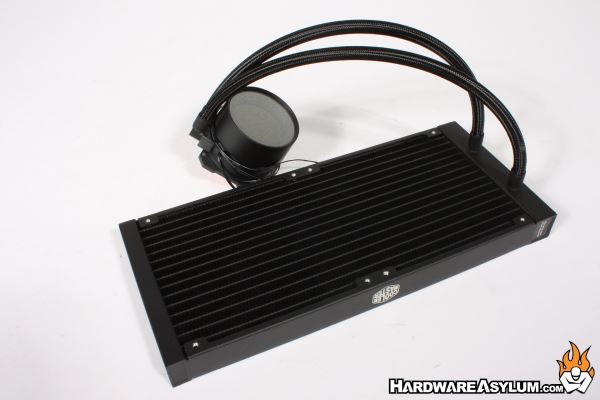 I found installation of the MasterLiquid to be extremely simple. The universal mounting system was easy to install and the process is virtually identical between LGA 2XXX and LGA1XXX systems. Simply install the standoffs and away you go.
During my testing I discovered that the Cooler Master MasterLiquid ML280 Mirror can handle and good amount of heat but was losing efficiency due to the low fan speed. When I test coolers I opt to use a PWM profile so that the fans can be factored into the results. In doing so the system was extremely quiet and started to suffer from heat soak in the radiator. This lead to higher than expected temperatures at the CPU and overall was a little annoying.
When I bypassed the PWM controller and directly connected the fans the overall temperature dropped several degrees and really wasn't that much louder. Personally, I would replace the SickleFlow fans with something more powerful but, that will be for another time.
There is one aspect of the MasterLiquid ML280 Mirror that I didn't talk about during this review, ARGB! The cooler features a single ARGB light strip under the infinity mirror that can be controlled using the inlcuded ARGB controller or by plugging it into any ARGB header. My Z390 ACE comes wth a really nice ARGB system that supports a few standard MSI profiles along wth some special Corsair profiles that are really quite fun.
Of course with the pump off the top is a perfect mirror reflecting whatever is nearby. Once the power is on the RGB kicks in giving you a really nice lights show and super cool infinity effect. Combine this with a few RGB strips and some ARGB fans and you'll have a perfectly syncronized RGB lightshow with very little effort.
Overall I am still very impressed with the MasterLiquid ML280 Mirror and wouldn't hesitate recommending it. Cooler Master has included 2x 140mm SickleFlow fans that are extremely quiet and pretty powerful. They do struggle a little with the ML280 radiator however, considering that even with the diminished performance they are extremely quiet. For some that is more important. Load temperatures were very respectable and while I was expecting slightly lower temps the C/W results showed that the ML280 can handle a decent overclock with some room to spare.
The Cooler Master MasterLiquid ML280 Mirror is an Amazon exclusive so if you would like to pick one up or are curious about price check out the ML280 Mirror on Amazon. For more detailed information on fan and pump specs check out the ML280 Mirror page on the Cooler Master website.
Good Things
Quiet Operation
Unique Pumpblock Design
Quick Installation
ARGB Lights and Infinity Mirror
SickleFlow PWM Fans
Braided Hoses
Bad Things
No support for 120mm fans
Needs more powerful fans for best performance