Cooler Master MasterLiquid ML360 SubZero Review
Author:

Dennis Garcia
Published:
Thursday, January 21, 2021

MasterLiquid ML360 SubZero Overview
The ML360 SubZero is a totally new AIO design that resembles a DIY cooling solution but, in a completely sealed package. By all accounts the cooler is quite large and breaks away from the dual chamber design found in the previous MasterLiquid coolers. In fact, the pump is completely separated from the waterblock which might seem confusing at first.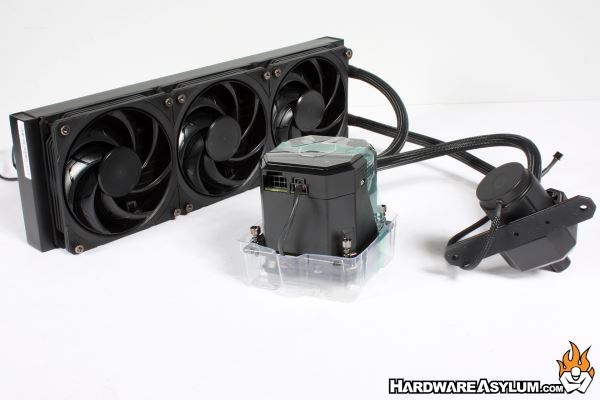 For a radiator Cooler Master is using their standard AIO 360mm or triple 120mm radiator design with square tanks and extremely dense fin design. These cool extremely well but do required a rather powerful fan to make them work efficiently.
Fans are a new design which appear to be based on the popular sickle flow fans with extremely long and dense fan blades. This particular layout is designed for high(er) static pressure @ 2mm H2O and have a concentric ring to help stabilize the fan.
They offer a quiet 26dBA @ 1900rpm offering 59 CFM of airflow each. Personally, I see these as being slightly overpowered for this application but, so is using a 360mm radiator.
The pump has been separated from the pump block and resides inline between the radiator and waterblock. Cooler Master intends for the pump to be placed in a fan location near the waterblock, ideally at the front of the case. The radiator will then be placed at the top of the case. Cooler Master to install a much more powerful pump as indicated by the larger motor due to it being separated from the waterblock.
The waterblock is very unique and quite large for an AIO cooling solution. As you can imagine the electronics required to control a TEC are rather complex and take up the entire top part of the ML360 cooler. Located at the top of the block you'll find a 4-pin PCI Express power connector along with an output to the TEC module and a USB port for software control.
At the bottom of the block you will find an air tight rubber gasket in the outer shape of a LGA 1200 socket. Inside that you'll find a pyramid shaped cold plate with thermal paste pre-applied.
Above this cold plate is the TEC module and above that is the actual waterblock for the AIO cooler. Needless to say, this is a very complex cooling solution that can only be used on an Intel LGA 1200 socket.