beQuiet! Dark Rock TF Heatsink Review
Author:

Dennis Garcia
Published:
Wednesday, May 27, 2015

Introduction
There are several types of heatsinks on the market from tiny OEM styles to oversized versions aimed at maximum performance. While the majority of aftermarket heatsinks are vertical heatpipe towers there are a select few attempting to offer the same performance but with a lower profile.
In this review we will be looking at the beQuiet! Dark Rock TF. This is a top down tower style heatsink that has taken a dual tower design and folding them over to limit the overall design height. By doing this you can get similar heat capacity to that of a full sized tower but without taking up a bunch of extra space in your case.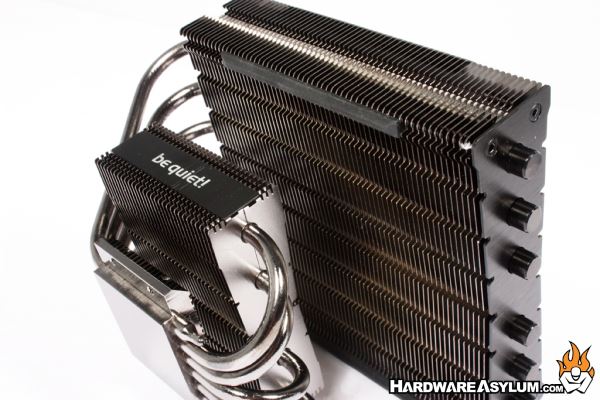 Like with previous designs the overall construction is extremely good thanks in part to the thicker aluminum radiator fins and solid construction. The material choices also allow the heatsink to use fewer interlocking tabs between the radiator fins and allow the leading edges to feature more surface area.
You will find two sets of rubber bumpers across the edges of the main radiator. These are to prevent the Silent Wings fan from moving around too much and causing vibrations.
The Dark Rock TF is a six heatpipe cooler split across two cooling towers. The top tower has six heatpipes that pass thru the cold plate. From there four of them loop back thru a lower radiator while the two along the edge terminate. This allows each side of the heatpipe to be cooled differently and works to double the cooling capacity. In actuality you get some instances where only half of the cooler is efficient while the other half suffers due to an increase in ambient air temperature.
From a thermal standpoint the large radiator has a good amount of surface area and allows for a push pull fan configuration. The radiator itself is quite thin which helps in overall airflow but will reduce heat capacity to a certain degree.
The lower radiator is a nice addition but has three distinct disadvantages. First it is smaller so actual thermal transfer will be less. Second, it is located on the exhaust side of the upper radiator so ambient air temperature will be higher and Third a good portion of the cooling fins are located in the low pressure zone of the 135mm Silent Wings fan. This reduces airflow and thus cooling efficency. These three things combined are not actually bad but will play a role in heatink efficiency at the higher wattages.
Coloring of the Dark Rock is very unique and features a dark nickel plated finish over the entire heatsink. Some may argue the thermal benefits of the special plating however in this case the plating is designed to increase durability, prevent corrosion and looks better over a typical copper + aluminum heatsink.