Deepcool AK620 Digital Heatsink Review
Author:

Dennis Garcia
Published:
Wednesday, August 23, 2023

Conclusion
The great thing about CPU aircooling is how affordable it is with initial purchase and throughout the lifespan of the PC. Coolers like the DeepCool AK620 Digital are easy to install and require very little maintenance aside from an occasional dusting to clean the fans and heatsink fins.
The DeepCool AK620 Digital features a six heatpipe design that is split across dual cooling towers. To help improve cooling you will get two 120mm fluid bearing fans that move around 69CFM at full speed with a noise level of 28dBA. During my testing I had both fans controlled using the Turbo Fan Speed setting in the ASUS UEFI and even under overclocked conditions the cooler remained rather silent.
As with the first AK620 this heatsink is quite large and will cover most everything on your motherboard including the VRM heatsinks and memory modules. There are cutouts in the cooling tower for memory modules and once the fans have been installed the memory is hidden away. While the cooler takes up a huge footprint it does provide an excellent canvas for the Digital display and RGB accent lighting.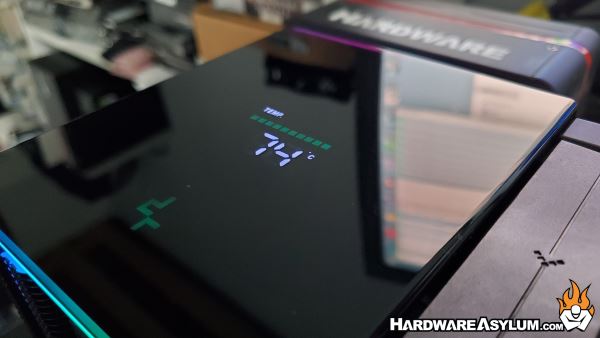 Sadly, the digital display is a little underwhelming as it will only show the CPU "package" temperature and the option to display CPU activity/usage. To activate the display the Deepcool Digital software must be installed and operates from a task bar icon without a refined dashboard. You are limited to what the software will display which makes it easy to install and setup but, leave much to be desired when it comes to usability.
Overall, the AK620 Digital is a nice upgrade to the original AK620 and adds a really nice feature allowing users to get dynamic feedback from their builds. This can go a long way when sharing your builds with others and, can be a selling point for OEMs using this cooler. I would have liked "more" from the digital display feature however, I suspect the limitations were by design and selected based on the types of builds this cooler was intended for.
Good Things
Excellent Performance
Six Heatpipe Solution
Easy Installation
Cut-outs for Tall Memory
Badass Black Color Theme
Digital Display with ARGB Lights
Bad Things
Dual tower coolers are big and can overwhelm system builds
Digital display has limited functionally