DeepCool AK620 Dual Tower Cooler Review
Author:

Dennis Garcia
Published:
Monday, April 11, 2022

Conclusion
The great thing about CPU aircooling is how affordable it is with initial purchase and throughout the lifespan of the PC. Coolers like the DeepCool AK620 are easy to install and require very little maintenance aside from an occasional dusting to clean the fans and heatsink fins.
The DeepCool AK620 features a six heatpipe design that is split across dual cooling towers. To help improve cooling you will get two 120mm fluid bearing fans that move around 69CFM at full speed with a noise level of 28dBA. During my testing I had both fans controlled by the motherboard using the PWM controller and Turbo Fan Speed selection in the ASUS UEFI and even under overclocked conditions the cooler remained rather silent even under full load.
While the recorded overclock stopped at 5.1Ghz I was able to push my Core i9 10900k to 5.2Ghz with a maximum temperature of 73c. Unfortunately, while the CPU didn't throttle under Prime95 I did notice some thermal throttling during stability testing and is why I didn't publish the results. The CPU was at 1.5v and with some tuning I'm sure I could have stabilized the overclock.
Installation was extremely easy and the wire clips used to secure the fans were easy to install thanks to the excellent build quality on the cooling towers.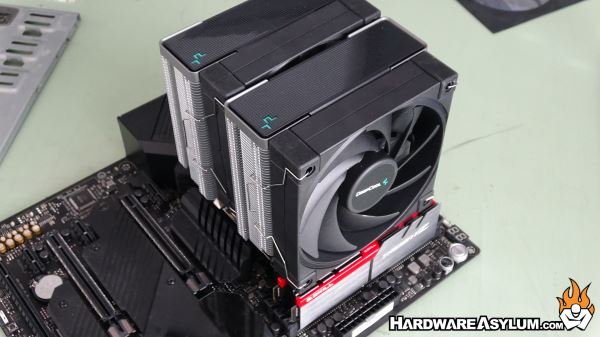 For those looking at a dual tower cooler, there is a secret performance menu to explore when testing your cooler. This involves removing the outer cooling fan and only running the one between the two towers. There is a slight impact to overall cooling performance but, you will get a massive reduction in overall noise across the entire operating range.
Overall, the AK612 is a pretty basic heatsink that has been refined to be very stylish cooler. You will find an interesting pattern along the edges of the heatsink towers and the decorative plates across the top are a welcome addition in keeping your systems clean. I am also impressed with the square fans and how they match the overall dimensions of the heatsink. This cooler does not have any ARGB/RGB support and to be honest, I'm rather glad. However, DeepCool did have a missed opportunity of adding a small backlight to illuminate the recessed logo across the top of each tower.
Good Things
Excellent Performance
Six Heatpipe Solution
Compact 120mm Design
Easy Installation
Cut-outs to Clear Tall Memory
Badass Black Color Theme
Bad Things
Dual tower coolers are big and can overwhelm system builds
Fans stand out more than they should
Hardware Asylum Rating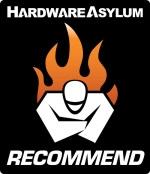 DeepCool AK620 Dual Tower Cooler Review
Recommend
https://www.hardwareasylum.com