Deepcool LS720 ARGB AIO Watercooler Review
Author:

Dennis Garcia
Published:
Saturday, September 10, 2022

Introduction
Watercooling has come a long way from its humble beginnings of handmade waterblocks and the extensive usage of pond pumps to the sleek and modern all-in-one systems we see today. The interesting thing about the AIO evolution is that there comes a time when the basic and 100% functional just won't do. That is when we find products with addon features such as ARGB, extra-large radiators and custom pump tops.
In this review we will be looking at the LS720 from DeepCool. This cooler is part of their Infinity Series and is a High Performance 360mm AIO Liquid Cooler for modern desktop PCs. As the name suggests this cooler features a 360mm or, triple 120mm fan, radiator and is where most of the cooling performance comes from.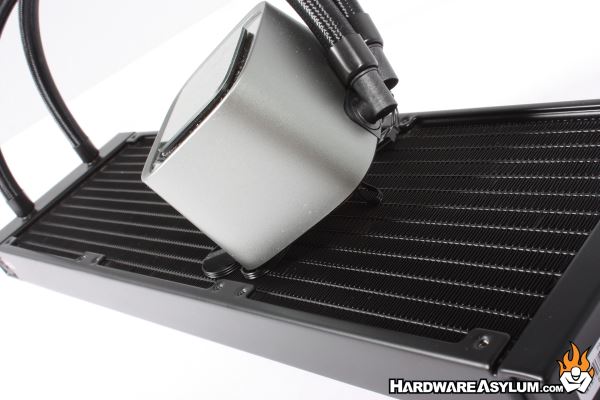 This cooler features a 4th generation pump design intended to maximize efficiency with increased power and low operational noise. I can attest that the entire cooling system is extremely quiet with the audible noise orientating from the triple 120mm cooling fans. These fans are also rather quiet under normal operation with a noise ceiling similar to a gaming GPU under full load.
The pumpblock features a very unique design with a mirrored surface and embossed logo on the center square. This square can be rotated so that the DeepCool logo can be oriented correctly and can also be completely removed to make room for a custom graphics insert.
A flat copper cold plate is used to interface with the CPU and features a light microtexture across the surface. I have found that these textures play a key role in making sure that thermal compound is equally spread across the CPU to minimize temperature issues associated with a "bad mount". Simply put, the texture is there to help ensure that everyone gets the same performance, even if you install the cooler incorrectly.
The hoses nicely sleeved and come with an extremely clean termination at both ends of the hose. They are also constructed from thick rubber to prevent kinks and ensure that they look good and perform well.
One feature of the LS720 is this fill port and every AIO comes with one. Some are a small little stubs at the top of the radiator while others are hidden away or disguised to look like something else. The fill port on the DeepCool LS720 is part of their AntiLeak system and will react to internal pressures due to excessive heat. If the pressure is too high this valve will activate and allow some air to escape so to prevent the system from leaking.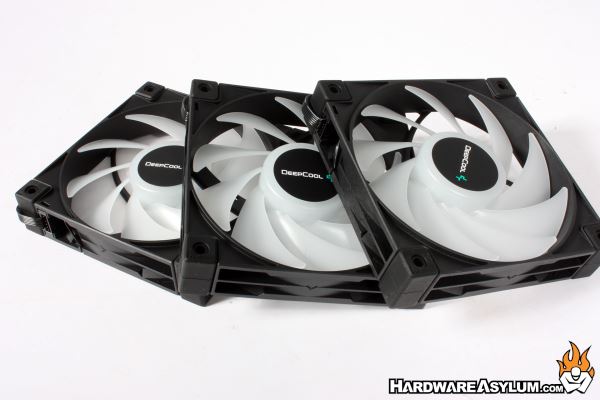 DeepCool includes three 120mm fans with the LS720. These fans feature an RPM range between 500-2250 with a maximum noise ceiling of 32dBA and airflow of 85CFM at full tilt. You will find ARGB lights in the center hub and the translucent blades help to make them glow.
Maybe one of the greatest features of these fans are the daisy chain cables that transmit both ARGB signals and fan controls over a single wire bundle and allows the fans and pump to be connected with a single wire as it progresses down the chain.