Noctua NF-A12x25 and NF-P12 Redux Fan Review
Author:

Dennis Garcia
Published:
Monday, December 31, 2018

Introduction
When it comes to fans there are A LOT of choices out there. Back in the early days of Ninjalane my mods all used Sunon case fans. They were pretty good fans, reasonably priced and readily available. If I really wanted to move some air I would grab a Delta fan and both of these brands filled a niche when very few PC builders concerned themselves with fan specifics. These days you can get fans for almost any application and it is sometimes difficult to know if the fan you are getting is really any good or simply the result of good marketing.
Arguably, one of the most well known names in cooling is Noctua. Over the years their designs have been used for a variety of things from high-end overclocking, small form factor cooling, watercooling, fan upgrades and happens to be the premier brand when it comes to silence. Of course we all know that to make a fan quiet you just make it spin slower however, that is not how Noctua does things. They focus on a balance between the three fundamentals of fan performance and then tailor each product for an intended purpose.
This kind of attention to detail is what makes Noctua products one of the most sought after brands in the computer and electronics market.
In this review I'll be showing two new Noctua fans. The first is the NF-A12x25. This is a fan that I saw during Computex 2018 and breaks the mold when it comes to fan design. The second fan is the NF-P12 Redux. Redux is a series dedicated to reissuing popular Noctua fan designs with a few modern twists.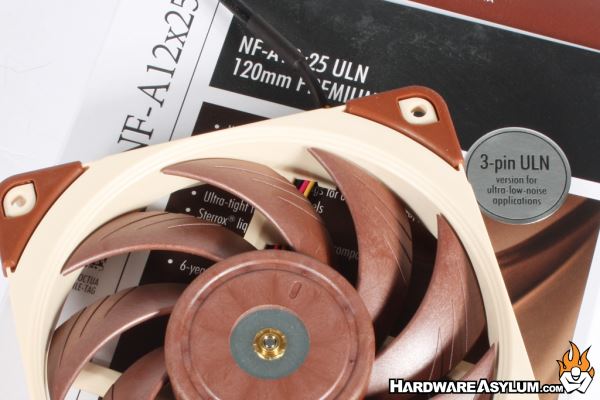 All of these fans are 120mm. The NF-A12x25 is available in five variants related to the fan motor (three in this review) and the overall design and styling are identical.
The NF-P12 Redux fan is based on the older NF-P12 and reminds me of the NF-F12 without the focus flow fins. This fan is also available in four variants based around what motor is installed.