Noctua NF-F12 Focused Flow Fan Review
Author:

Dennis Garcia
Published:
Friday, February 03, 2012

Introduction
During Computex 2011 we were introduced to one of the coolest fans we have ever seen, the Noctua NF-F12 Focused Flow 120mm fan. This fan was overflowing with innovative features designed to make the fan quiet and efficient. As with most fans some of the features were subtle and difficult to spot while others were obvious and well stated.

Cooling enthusiasts will be familiar with the name Noctua as being one of the premier companies dedicated to creating high quality cooling gear and takes pride in knowing they are also the quietest. We have reviewed a few Noctua fans in the past and found them to be extremely well crafted but felt a little underpowered when compared to the larger and more powerful counterparts. As you can imagine when you concentrate on noise reduction you tend to lose a little in overall cooling ability and

This is where the NF-F12 is different. In this review we will be looking at the new Noctua NF-F12 PWM Fan which features the new Focused Flow technology for better air penetration and overall pressure. The fan features nine major innovations some of which we have seen on competing products with different levels of refinement.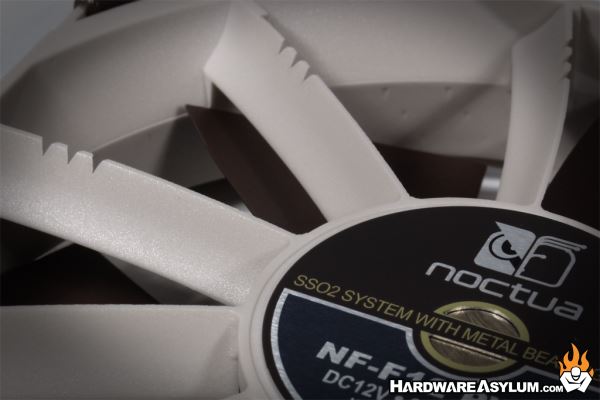 Fan Specifications
Size 120x120x25 mm
Connector 4-pin PWM
Bearing SSO2
Blade Geometry Heptaperf
Frame Technology Focused Flow
Rotational Speed (+/- 10%) 1500 RPM
Rotational Speed with L.N.A. (+/- 10%) 1200 RPM
Min. Rotational Speed (PWM) 300 RPM
Airflow 93,4 m³/h
Airflow with L.N.A. 74,3 m³/h
Acoustical Noise 22,4 dB(A)
Acoustical Noise with L.N.A. 18,6 dB(A)
Static Pressure 2,61 mm H2O
Static Pressure with L.N.A. 1,83 mm H2O
Max. Input Power 0,6 W
Max. Input Current 0,05 A
Voltage 12 V
MTBF > 150.000 h
Warranty 6 years
For a full list of specs, features, FAQs and more please consult the Noctua website (
http://www.noctua.a
t)