Noctua NF-F12 Focused Flow Fan Review
Author:

Dennis Garcia
Published:
Friday, February 03, 2012

Testing and Conclusion
Testing a high-end fan such as the Noctua NF-F12 is tricky and somewhat inaccurate given the tolerances of both a silent cooling device and the harsh environment found inside every computer case. For our testing we decided to see how well this fan could cool the NZXT HAVIK 140 and if it would be any better than the two 140mm fans it comes with.

The system is a Core i7 2600k running both stock clocks and again at 4.6Ghz @ 1.39v. Each of the heat tests were run following our typical heatsink testing procedure with the top load temperature recorded at the end.



As you can see the results are very close and in both tests the Noctua NF-F12 comes out with slightly lower temperatures. There are a few factors to consider here.
The Noctua NF-F12 fan is 120mm spinning at 1500rpm whereas the NZXT fans are 140mm spinning at 1200rpm.
The Havik cooler is only 120mm x 120mm which means that a good majority of the air from the 140mm fans isn't touching any part of the heatsink.
The NZXT fans do move more air than the Noctua and are considerably louder
So while the temps are close the NF-F12 has done more using half the airflow and with 3dB less noise.
Conclusion
It is difficult to get excited about a fan when there are so many to choose from but when you find one packing in nine different technology features you tend to pay attention. When we first used the NF-F12 we were surprised to actually hear it working. Of course with any device running at 22dBA you are bound to hear it and yet this sound was different. With most fans you notice some whine from the motor and a distinctive swoosh from the fan blades as they spin. However, with the Noctua NF-F12 the sound was muffled and more like a slight breeze you might hear outside. There were no rushing air sounds and no thumping as the blades passed over the control vanes.

Fan performance is difficult to judge but in our case and considering the factors involved we have been convinced that the NF-F12 is an extremely capable fan that can outperform any fan of a similar spec and even keep up with more powerful fans and do so with less noise.

Good Things
Lots of Technology
Focused Flow Design
22dBA Design
Noise Isolation
Bad Things
Only available in 120mm
Not suited for case cooling
Ninjalane Rating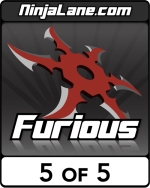 Noctua NF-F12 Focused Flow Fan Review
Furious 5 of 5
https://www.hardwareasylum.com