Noctua NH-D15 SE-AM4 120mm U-Type Tower Heatsink Review
Author:

Dennis Garcia
Published:
Friday, May 12, 2017

Cooler Installation
Installing any Noctua heatsink is extremely easy and their universal mounting hardware not only is one of the best we have ever used but works with any Noctua cooler currently on the market. The system is so universal that when new socket configurations come out you can contact Noctua and get a socket upgrade kit with proof of purchase.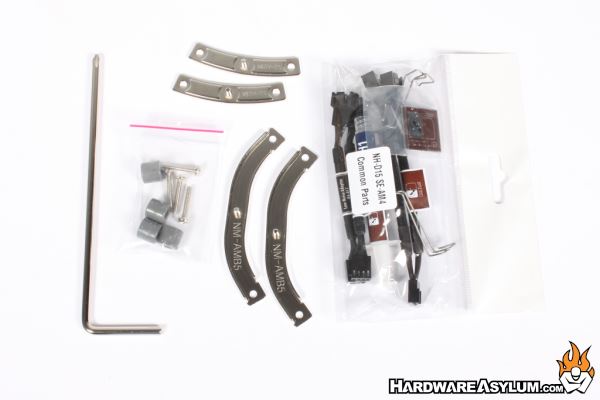 This cooler is a special edition and only contains mounting hardware for the AM4 platform and is what we will be using for this review.
You start by removing the stock heatsink retention brackets. There are two screws holding each bracket in place and are normally held down by the large metal reinforcement plate on the back of the motherboard.
With the stock brackets removed you'll need to set the spacers down over the existing screw holes. This is the first part to building a base for the mounting brackets to sit.
On this system I needed to use the shorter set of rails so that the cooler would be positioned correctly. After that install some of the excellent Noctua NT-H1 thermal compound included with the NH-D15 SE or swap it for whatever your current favorite is. I prefer the 5 dot method which has always given me adequate coverage.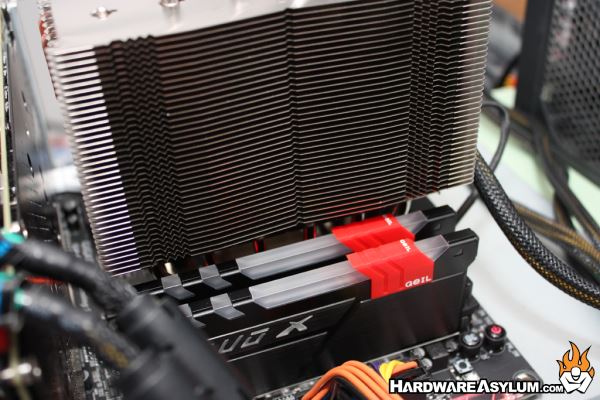 My test rig is the Gigabyte X370 Gaming 5 with a pair of Geil EVO RGB memory modules. The modules are quite tall but fit nicely inside the memory cutouts.