Noctua NH-L9i Low Profile Heatsink Review
Author:

Dennis Garcia
Published:
Thursday, February 07, 2013

Conclusion
The Noctua NH-L9i is a premium heatsink designed for systems where space is an issue and noise control is of utmost importance like a HTPC and SFF (Small Form Factor) PC. These systems often feature half height chassis designs and sometimes have the PSU directly over the CPU both of which limit the size of your heatsink. The Noctua NH-L9i is designed to address these issues and boldly cool where no other cooler can.

As you can imagine small heatsinks are limited in their ability to dissipate heat and the NH-L9i is no exception. Noctua has recommended that you only use this cooler on processors with a 65w or less TDP to ensure stable operation. If you happen to be using an Ivy Bridge processor you may need to disable Turbo mode to keep CPU heats under control.

Despite the hardware limitations there are quite a few advantages. First and foremost, you get near silent operation thanks in part to the premium Noctua fan and included low-noise adaptor. Given that the stock fan spins virtually silent you'll be hard pressed to find a reason to use it but, it is there if you need it. Installation was extremely easy and the low profile form factor will fit any installation where an OEM cooler could be used. Finally, if you happen to need more cooling performance you can upgrade the 14mm fan with a 25mm unit using the included screws. (fan not included)

All things considered this cooler does exactly what it is designed to do, and does it quite well.
Good Things
Low Profile Cooler
Silent Operation
Large Mass Design
Better Than OEM
Perfect for HTPC
Bad Things
Limited heat capacity
Clearance issues with some pwm heatsinks
Ninjalane Rating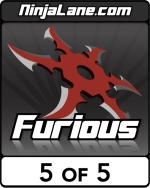 Noctua NH-L9i Low Profile Heatsink Review
Furious 5 of 5
https://www.hardwareasylum.com