Raijintek Morpheus VGA Cooler Review
Author:

Dennis Garcia
Published:
Monday, November 17, 2014

Introduction
Most video cards come with an extremely good cooling solution from the factory. There are a few exceptions however; cooling your graphics card is not something many of us are concerned with. In fact OEM coolers are designed to provide just enough cooling to validate a warranty and fit within a pre-determined form factor. So, the question is. How can you get more performance from your GPU?? Easy, you overclock it and for overclocks to be successful you may need better cooling.
In this review we are looking at the Raijintek Morpheus. This is an extreme high performance heatsink for all modern AMD and NVIDIA based video cards. The cooler features a very unique design with a literal maze of heatpipes and a radiator that will rival most tower designs for high-end CPU cooling. An important thing to note is that the Morpheus is designed for high performance cooling and to get that you have to sacrifice a few things.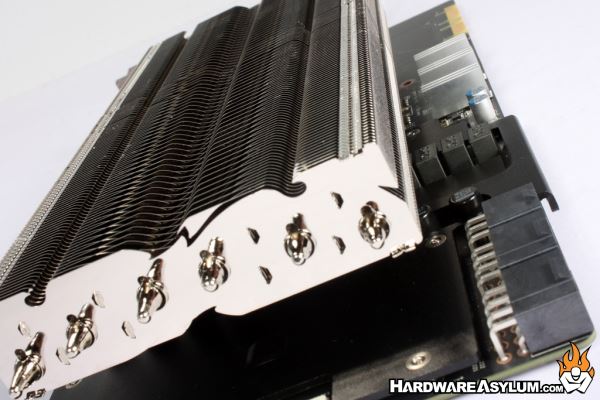 Unlike the coolers you find on most video cards the Morpheus is big. The cooler is a two slot design meaning that you will need to have two available expansion slots if you want to install just the cooler. This requirement changes depending on what fans you wish to run so keep that in mind when you upgrade.
There are a total of six heatpipes that make up the Morpheus. The Raijintek documentation claims 12 but we all know that passing a pipe through a cold plate doesn't physically separate the pipe but does promote cooling at both ends. This massive amount of copper and heatpipe material does wonders for thermal capacity and Raijintek claims a 360 watt heat capacity as a result.
The heatsink base is polished flat and features nickel plated surface for durability. You will find that the heatpipes are positioned close to the processor with a sizeable chunk of metal sitting on top. This is a great design as it helps the heatsink become more efficient by ensuring one end of the heatpipe is always warmer than the other.
The radiator features a slight edge texture that is not only cool to look at but adds surface area to increase cooling capacity. You will find the majority of these in the low pressure areas under the fan and located in the middle of the radiator.