Raijintek Morpheus VGA Cooler Review
Author:

Dennis Garcia
Published:
Monday, November 17, 2014

Conclusion
As we mentioned early in this review video cards come with coolers designed for both form factor and warranty compliance. Of course depending on what card you buy the actual technology that goes into the heatsink may change giving some better overclockability while others may be optimized for sound. In this review we looked at the extreme performance Morpheus cooler from Raijintek. This cooler takes a no compromises approach to aftermarket GPU cooling and would be a good alternative any OEM heatsink.
Cooling is handled by two 120mm fans of your choice. In our testing we used two 120mm x 25mm case fans however, 13mm low profile fans are available from Raijintek and would be our recommended fan option.
Installation was extremely simple using the universal mounting kit. There is basically two parts. The first is establishing the rail orientation to match your GPU followed by installing the memory and VRM heatsinks using the included thermal tape.
Overall performance was better than we had expected and allowed us to overclock our special GTX 780 Ti Lighting to 1219Mhz without any voltage adjustments. We did start running into stability issues, not from the cooler but rather from VRM heat. You see our special edition GTX 780 Ti Lighting is configured for LN2 overclocking and comes with an overclocked VRM for increased stability at higher frequencies. Sadly running this card on air causes the VRM to overheat and is something retail cards have been configured to prevent.
Good Things
Excellent Performance
Easy Installation
Included Memory and VRM heatsinks
Large 6/12 Heatpipe design
High-Performance OEM Replacement
Bad Things
Fans not included
Consumes up to three expansion slots
Hardware Asylum Rating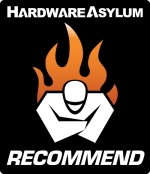 Raijintek Morpheus VGA Cooler Review
Recommend
https://www.hardwareasylum.com