beQuiet! Shadow Rock LP Low Profile Heatsink Review
Author:

Dennis Garcia
Published:
Saturday, May 30, 2015

Introduction
In the grand scale of cpu cooling you have a few basic styles that all have their strengths and weaknesses. Tower style coolers are every efficient and can be designed for performance or silent running. OEM style solid heatsinks are often inexpensive and surprisingly quiet but lack the mass required to support any real overclocking. A good mix is when you can combine features like having a low profile cooler which can support higher heat loads and replace an OEM alternative.
For this review I'm looking the beQuiet! Shadow Rock LP which is a "down-market" cooler from beQuiet! designed to deliver exceptional performance but at a fraction of the cost. Of course the larger and more expensive Dark Rock designs can offer higher heat capacity and improved styling but there comes a time when you really don't need any of that.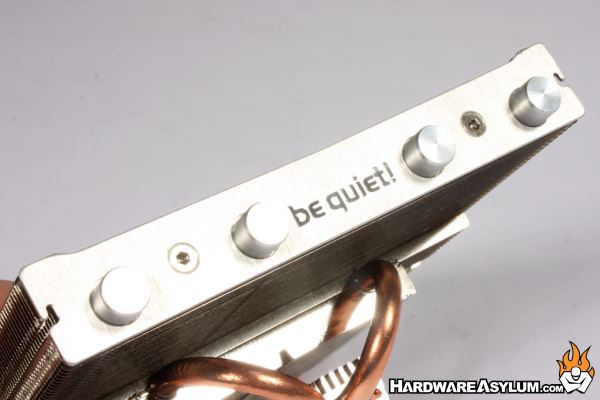 The Shadow Rock LP is a tower style heatsink that has been pushed over to orient the radiator parallel to the motherboard. This allows the heatsink to have similar surface area but with a much lower profile.
You will find four copper heatpipes snaking thru the double stacked radiator assembly with only two passing through the cold plate to extend the reach. The lower radiator is physically separated from the main cooler which is important to ensure good efficiency.
Overall construction is extremely good thanks in part to the thicker aluminum radiator fins and pipe fin connections, In fact due to the material choices you will be hard pressed to find any locking tabs along the edges normally used to maintain proper fin spacing.
The Shadow Rock LP comes with a single 120mm cooling fan and is designed for silent running with the aid of the bequiet! SilentWings technology. The fan is rated at 25dBA @ 1500rpm under full load.