SilverStone Hydrogon D120 ARGB Dual Tower CPU Cooler Review
Author:

Dennis Garcia
Published:
Saturday, September 4, 2021

Introduction
When I look back on the mountain of coolers I have reviewed you can see a trend that has swayed from aircooling to AIO style watercoolers. While the last several coolers from SilverStone have been AIO watercooling units that doesn't mean they have stopped making aircoolers, in fact they have a rather extensive line of aircoolers for a variety of purposes from SFF builds, to servers and even enthusiast level gaming rigs.
In this review we will be looking at the Hydrogon D120 ARGB from SilverStone. This is a dual tower design meaning that we have two independent radiators that share a heatpipe connection with the cold plate near the CPU. These types of coolers have a distinct performance advantage when it comes to thermal dissipation due to a combination of surface area and airflow.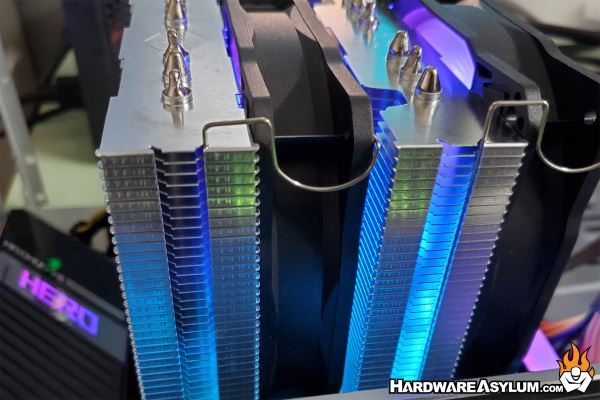 The Hydrogon D120 is a six heatpipe design with an even distribution of pipes across the cold plate. Each heatpipe group is evenly split so that the heatpipe array occupy the areas that receive the most airflow. Doing this avoids putting the heatpipes in the "dead zone" near the center of the fan to increase cooling performance.
You will also notice that the heatpipes have been positioned such that the entire cooler is centered when the fans are installed. This will give you more clearance to install tall memory modules and fill up all of the memory banks.
SilverStone has included two 120mm ARGB enabled PWM fans. The design features 9 blades with a noise level of 30.5 dBA while pushing 56 CFM at 1850 RPM. As with most ARGB enabled fans the LED lights are located in the hub allowing the lights to illuminate the translucent fan blades as they spin.
One of the detractors to a dual tower design is that airflow from the first fan will feed the second. At the ambient temperature level this means that air passing over the second radiator is higher than the intake air and thus can lower efficiency. However, what you really get is a combined system that transforms this 120mm heatsink design into a much larger 240mm heatsink while still retaining the smaller form factor.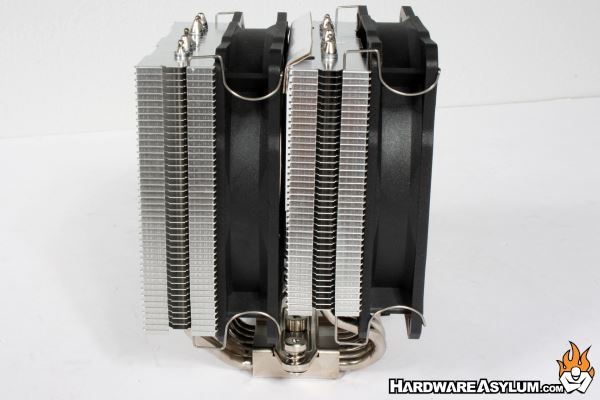 Many overclocking and silent dual tower aircoolers will start to increase the surface area of the second tower to compensate the thermal gain but, that adds cost and, for a design that is intended to be affordable while still offering excellent out of box performance the symmetrical tower design seems to get the job done.