SilverStone Argon Cooler Round Up
Author:

Dennis Garcia
Published:
Tuesday, June 14, 2016

AR06 Low Profile Cooler Features
Of the coolers in this round up the AR06 comes with the most heatpipes and the least amount of surface area. It will move a good amount of heat but will require a good amount of airflow to work with high powered CPUs above 95w.
The cooler comes with a low profile 92mm fan that works surprisingly well at being both quiet and efficient.
The real benefit to the AR06 comes as a stock replacement for use in many of the Silverstone Mini ITX and Micro ATX cases where you have limited room for a larger tower style cooler.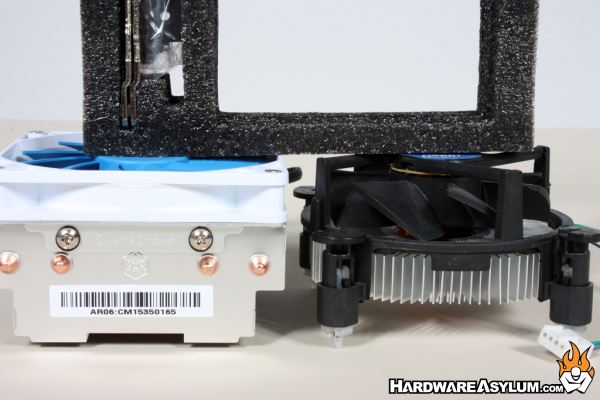 With this side by side you can see just how much surface area is available with the AR06 when compared to the OEM Intel cooler. The height in the photo shows that both coolers are identical however the Intel heatsink retention system is skewing the results.
In a slim tower chassi you want to control the airflow as much as possible to ensure that fresh air is being pulled into the case instead of recycling internal air. Due to the design of the Intel cooler it is prone to scavenging air from around the cooler instead of directly above which can cause your processor to overheat.
The AR06 design comes with a more traditional square fan to create a seperation between inlet and exhaust air which increases efficiency.