SilverStone Argon Cooler Round Up
Author:

Dennis Garcia
Published:
Tuesday, June 14, 2016

Introduction
As the desktop PC continues to become more efficient the components tend to shrink. What once required a full sized motherboard with three expansion cards can now fit on a single Mini ITX in a case with a third of the volume. Despite all the advancement one thing holds true. OEM heatsinks work but, really suck.
In this round up we'll be taking a look at three coolers from SilverStone to find out which is best for your application. The first cooler, the Argon SST-AR06 is a low profile cooler designed to maximize cooling performance in the Silverstone Raven RVZ02 and other slim style cases. The other two, the Argon SST-AR07 and Argon SST- AR08 are both tower style heatsinks that feature a very aggressive fin design, three heatpipes with direct heatpipe contact technology or, core contact as I like to call it.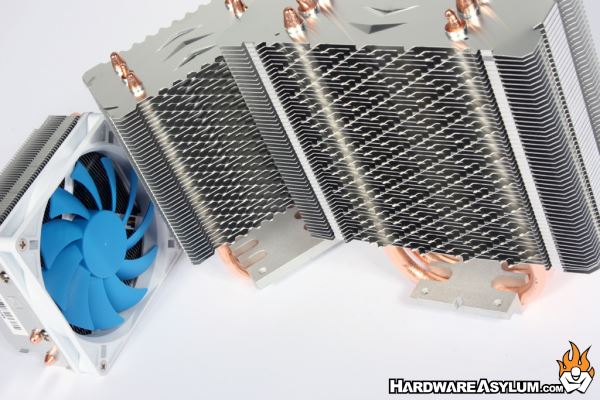 For the purpose of this review the AR06 will be included as a reference cooler and to show that Silverstone produces a variety of different cooler designs to fit any application. There is very little overclocking headroom with the AR06 but it has a few specific advantages over the Intel OEM cooler we have all grown to "accept".
AR06 Specifications
Designed for low profile system at 58mm tall
Four Ø6mm heat-pipes and aluminum fins for excellent heat conducting efficiency
Heat-pipe direct contact (HDC) technology
Includes compact 92mm PWM fan for excellent cooling and low noise
For use with CPUs up to 95W or more with proper case ventilation
Intel Socket LGA1150/1151/1155/1156 and AMD Socket AM2/AM3/FM1/FM2 compatible
AR07 Specifications
Great balance of silence and performance
Unique interweaving diamond edged fins for improved performance
Exclusive arrow guides distribute airflow evenly among heat pipes
Three Ø8mm heat-pipes and aluminum fins for excellent heat conducting efficiency
includes a compact 140mm PWM fan for excellent cooling and low noise
Heat-pipe direct contact (HDC) technology
Anti-vibration rubber pads included for additional noise dampening
Intel Socket LGA775/115X/1366/2011 and AMD Socket AM2/AM3/FM1/FM2 compatible
AR08 Specifications
Great balance of silence and performance
Unique interweaving diamond edged fins for improved performance
Exclusive arrow guides distribute airflow evenly among heat pipes
Three Ø6mm heat-pipes and aluminum fins for excellent heat conducting efficiency
Includes a compact 92mm PWM fan for excellent cooling and low noise
Heat-pipe direct contact (HDC) technology
Anti-vibration rubber pads included for additional noise dampening
Intel Socket LGA775/115X/1366/2011 and AMD Socket AM2/AM3/FM1/FM2 compatible