SilverStone PF360 ARGB AIO Watercooler Review
Author:

Dennis Garcia
Published:
Sunday, December 15, 2019

Introduction
Last month we took a look at the SIlverStone PF240. That was the 240mm version of their Permafrost Addressable RGB All in One watercooler. If you haven't seen the review be sure to check it out with the link below.
SilverStone PF240-ARGB AIO Watercooler Review
In that review I made note that the cooler started to fall short in the overclocking tests and this is interesting for two reasons. First you don't see many hardware reviewers (or users) running their 9900k processors at 5.3Ghz and Second the PF240 appeared to be at its thermal limit which allowed the processor to run at 81c.
In this review we will be looking at the SilverStone PermaFrost PF360-ARGB. SilverStone noticed my comments in the PF240-ARGB review and asked if I would be interested in checking out their PermaFrost PF360 ARGB cooler. The AIO is virtually identical to the PF240 with the addition of a 360mm radiator. The extra surface area should help considerably with the overclocked load temperatures.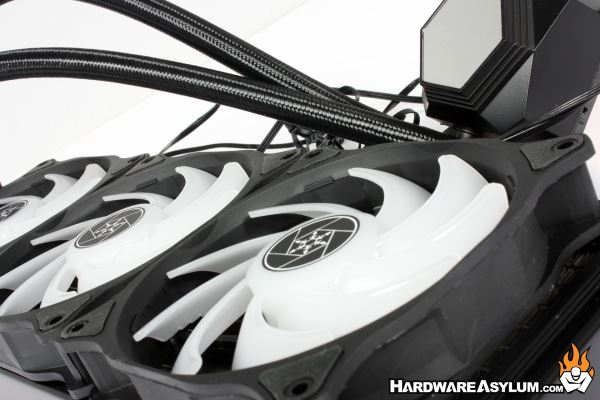 Back in the early days of AIO watercooling most of the coolers you could find were limited to a single 120mm fan design. You could run them in a Push-Pull configuration but in terms of radiator space they only supported a single 120mm fan. At the time processors didn't generate enough heat to warrant dual or triple fan radiators and didn't gain you much. You see, despite there being more surface area you still cannot drop below ambient.
Of course, with that being said larger radiators are good for two things.
First is the promise of lower load temperatures using high powered processors. This can be the difference between a Core i3 and a Core i9 or a hot running overclock that you are trying to stabilize. In this review there is little chance I'll be able to run past 5.3Ghz since that is the air cooled limit of my Core i9 9900k but it should lower the temperature.
Second is quiet running. By running the CPU cooler you can reduce fan noise and that makes everyone happy.
As you can see the PF360 and PF240 are almost identical. They both feature braded hoses, the same mirrored and backlit pump housing and ideally the same pump and coldplate.
The only major difference is the size of the radiator and one additional 120mm fan.
Installing the SilverStone PF360 is identical to the PF240 so we will be skipping that page and diving directly into the benchmarks.