SilverStone PF240-ARGB AIO Watercooler Review
Author:

Dennis Garcia
Published:
Sunday, November 10, 2019

Introduction
Not too long ago I did a pretty epic build that included the big three when it comes to modern system builds, DIY watercooling, a custom case and RGB lighting. What was amazing, at least for me, was that everything was available "off the shelf" and required no modifications and while the motherboard was a super rare Waterforce Xtreme from Gigabyte and the case was a limited edition MasterCase Maker 5t the star of the show and what got everyone excited was the ARGB lighting from SilverStone.
It is difficult for me to believe that Addressable RGB would be the deciding factor when it came to a show ready build especially considering that the underlying hardware was largely overlooked.
In this review we will be looking at the new SilverStone Permafrost PF240-ARGB All-In-One watercooler. This isn't the first AIO we have looked at from SilverStone and if you look back into the Hardware Asylum archives you might find one of their first AIO coolers complete with carbon fiber side panels.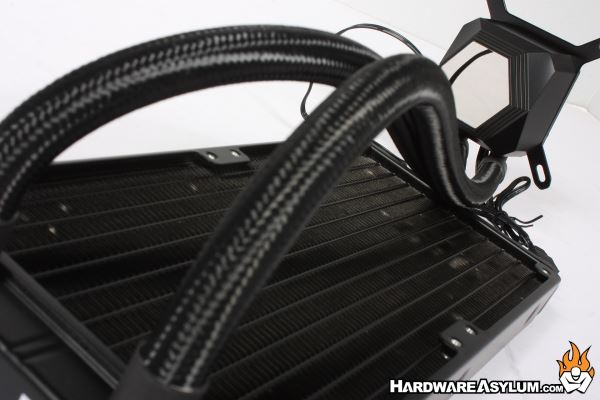 What makes the PF240-ARGB different is that they have gone with a more traditional design featuring a densely packed radiator design, dual chamber pump, braided rubber lines and Addressable RGB.
The pumpblock features a reflective panel that serves two purposes. First it gives you the ability to congratulate the system builder by looking directly into it and Second it hides the ARGB backlighting that will show the SilverStone logo when powered on.
As with most AIO coolers the pump base is a solid piece of copper and features a micro texture that is bright but not very reflective. Of course if you were to lap your processor you would do the same to your heatsink to ensure the best metal to metal. However, in the real world that doesn't really matter.
I mentioned how the radiator was densely packed and there is no better way to see that then looking through it. In terms of design this radiator is like most AIOs with vertical rows for coolant and fins designed to extract the most heat. The more fins you have the better.
To a certain point.
The coolant lines are braided mostly for decoration while the large diameter tubing are intended to prevent kinks and honestly gives the overall design a little weight and looks much better in my opinion.
Finally the fans are slightly different from what SilverStone includes with other kits and come with translucent centers and ribbed trailing edges. The motors are PWM controlled and happen to be very quiet even when running full tilt.
The translucent centers are for the ARGB lights to shine though and to power the lights each fan comes with a male and female tail so you can daisy chain the lights in series or run them in parallel.