Cherry G80-3930 MX 6.0 Keyboard Review
Cherry G80-3930 MX 6.0 Keyboard Review
Author:

Darren McCain
Published:
Friday, July 21, 2017

Cherry G80 MX 6 Features Continued
A large rubberized wrist rest extends off the front a good four inches or so making it a tight fit for my humble keyboard tray. In practice the shape of the G80 was pretty good without it.
The rubber wrist rest attaches to the front of the frame using a solid magnetic docking system. The feel is soft and grippy. I do have to admit I immediately found it comfortable and had to remind myself I had second guessed the size.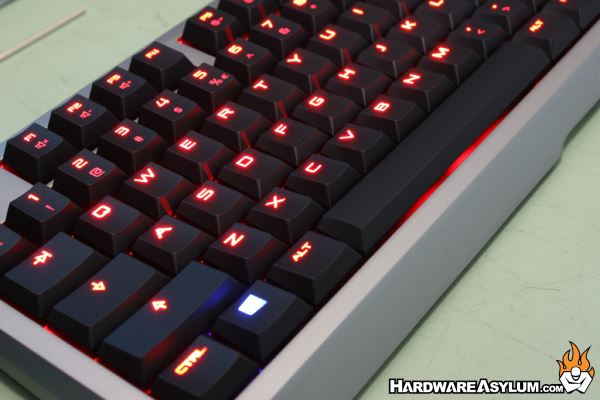 Ok, I have grown used to cherry paring colored lights with the same named key types. Red LED lighting for Red Cherry MX switches, blue for blue, etc. For the most part keyboard makers have followed suit. Of course now that RGB LEDs have taken over it is difficult to imagine a keyboard with a solid switch color. The G80 in this review comes with Cherry MX Red switches at launch with excellent backlighting that can be controlled using the onboard controls for brightness. I should note that some of the system keys light up in a blue color, Function and Windows keys for example, keeping things from being all red.
The Cherry MX Key Switch
Choosing your mechanical keyboard often boils down to identifying what type of Cherry MX switch you like the most. Blue tends to favor typists with a more tactile or "clicky" action. Blue can also make it harder to double tap but provides the most feedback in terms of touch. Reds require less force and tend to favor a softer touch which can also lead to accidental key presses but can be more responsive. Black switches are similar to reds but require more force to actuate the key. Black switches require 60 cN (centi-Newtons) of force to actuate, while the Red switches only requires 45cN. Browns tend to be a little bit of both. While they are less tactile, and less "clicky", they do have a feedback to them while still requiring less force than the reds. Green is a very rare switch type often referred to as a stiffer blue making its inclusion all the more notable. Green is both a tactile and a clicky switch often reserved for the space bar. You can both feel the tactile bump and hear the "click" that occurs when the activation point is hit.
Cherry MX Silent Red Key Switches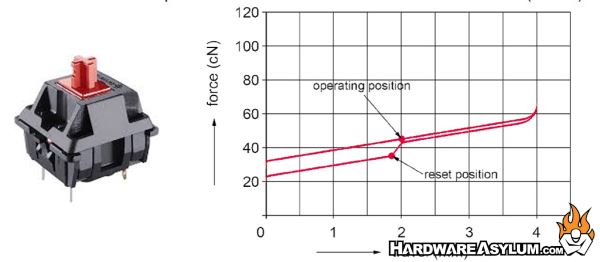 The CHERRY MX Silent red switch is the original Cherry MX Design and still the most popular mechanical gaming key switch on the market today. Cherry offers the MX Silent Red key switch in the classic Silent Red found in our Cherry G80-3930 MX 6.0 and in a RGB version pictured featuring 16.7 million color variations.
Key Benefits
Red switch: Without pressure point, linear light actuation - switching function with a defined force of approx. 45 cN without contact feedback
Noise-optimized MX key switch version with the worldwide unique Gold Crosspoint contact technology.
The only solution from a single source: patented (patent pending) noise reduction with integrated 2-component stem.
Reliable reduction of bottom-out and top out noise
Noise reduction takes place in the glass-fiber reinforced base, regardless of 3rd party solutions on the key switch.
Precision "Made in Germany" with a short bounce time of < 5 ms
Self-cleaning contacts, resistant to dust and dirt
Over 50 million strokes per key switch without compromising on quality.
Long-lasting safe switching performance in the renowned "Original CHERRY quality" tried-and-tested a billion times over.
Fastening: Product dependent, see table "Models"
Switching voltage: 12 VAC/DC max.