Cherry G80-3930 MX 6.0 Keyboard Review
Cherry G80-3930 MX 6.0 Keyboard Review
Author:

Darren McCain
Published:
Friday, July 21, 2017

Introduction
Shopping for an enthusiast keyboard often leads to a decision between brands and type of Cherry MX switches. Why not cover both bases in one and go directly to the source! Cherry makes their own line of gaming keyboards and today we will be looking at their G80-3930 MX 6.0 Keyboard.
Cherry calls the G80-3930 MX 6.0 Keyboard, "The world's fastest keyboard" Outfitted with CHERRY MX and CHERRY RK the G80 represents the pinnacle of mechanical keyboard technology direct from the source.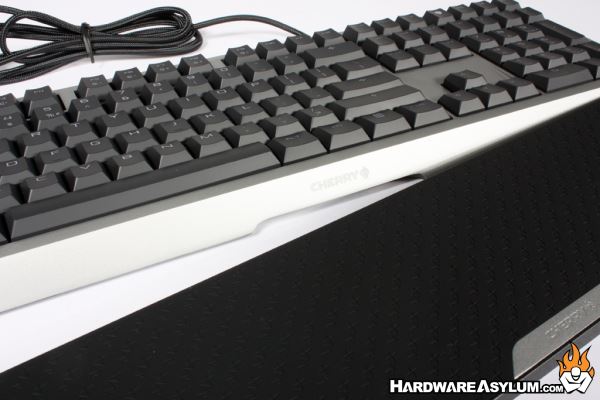 As with all the Cherry Keyboards we have reviewed, the G80 V6.0 comes in a pretty nondescript box. That's a shame because the beautiful brushed aluminum housing accented by the laser cut ABS black keys and coated with an anti-grease coating looks great without getting flashy. Cherry lets the technology take the lead with only minimal branding and a signature Cherry key.
Fortunately the technology does speak loudly with Real Key technology providing a fully analog signal processing in real-time. This provides keyboard feedback with no delays, full N-Key rollover and 100% anti-ghosting all with your choice of Cherry MX switches (coming soon). Cherry has dropped key stroke response time from a typical 20ms to an amazing ~1ms! That's as fast as todays USB interfaces can handle!
Read more here: http://www.cherry.de/cid/RealKey_Technology.htm
Features
The world´s fastest keyboard – with CHERRY MX and CHERRY RK
Mechanics: CHERRY MX technology – Gold Crosspoint precision module for all keys
Electrics: CHERRY RealKey technology – fully analog signal processing
Full N-Key rollover – all keys are read simultaneously• 100 % anti-ghosting – no inputting errors
Red LED key backlight with adjustable brightness (dimmer)
Bi-color status keys (blue backlight when activated
Rubber palm rest with magnetic connector (quick-snap)
Win-Key deactivation
Specifications
Interface: USB 2.0
Current Consumption: Typ. 470 mA
Connecting Cable: approx. 200 cm / 6.56 ft
Weight: approx. 1350 g, 2.9 lbs. (without packaging)
Dimensions: 482 x 237 x 70 mm / 17.87″ x5.78″ x 1.1″ (keyboard)
Storage Temperature: -20°C to 60°C / -4°F to 140°F
Operating Temperature: 0°C to 50°C / 32°F to 122°F
Warranty: 2 Years
Keyboard:
Service Life, Standard Key: > 50 Million key operations
Inscription Technology: Laser
Inscription Layout: Standard
Number of Keys: 104 +4
To many PC enthusiasts Cherry GmbH is synonymous with high end mechanical keyboards. Founded in 1953 in the basement of an Illinois restaurant, Cherry is an industry leader in the manufacture of industrial switches. Their MX and ML lines of switches have been the de facto standard in mechanical keyboards since their inception in the 1980's. Cherry makes switches for keyboards and mice, industrial switches and sensors, and performs contract manufacturing for a wide range of brands.