Ballistix Elite DDR4 4000 CL18 Memory Review
Author:

Dennis Garcia
Published:
Tuesday, March 03, 2020

Crucial Ballistix Elite Overview
The Ballistix Elite modules featured in this review are using a very unique heatspreader design comprised of several parts. Across the top you'll find a thick aluminum heatsink with several shallow cuts across the top to simulate fins. This is then attached to the actual heatspreader that features several metal layers giving good memory chip coverage while also providing style and logo placement. Together the heatspreader has some weight indicating that the design is more than a thin decoration.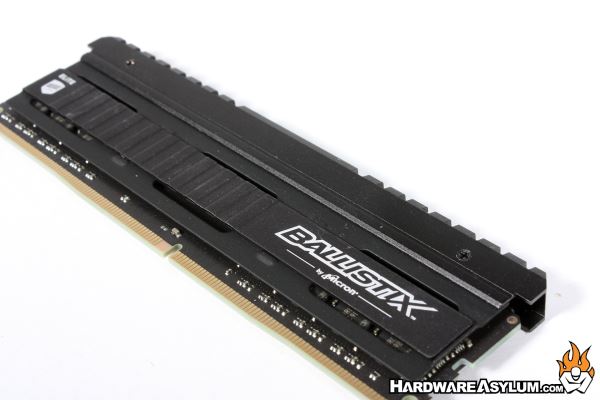 Module height has always been a concern when it comes to system builds making it difficult for heatsink makers to offer designs that fit every instance. As a compromise they often pick the JEDEC module standards with some wiggle room. This is great when using vanilla memory modules but, once you switch to performance memory your cooling method can become a concern.
In terms of overall height the module measures a little under 1.5 inches tall which makes them reasonable in terms of module height and should fit quite well in any system. Given that most high-end builds have switched to AIO cooling the overall module height is been less of a concern.
Under the heatspreader (if I had removed them) you will find a standard height memory PCB with an array of BGA memory chips soldered across a single side of the module. Unlike some of the other modules we have reviewed the PCB doesn't come with any special cooling features, lights or extra connectors but does feature a black PCB.
Personally I will be sad to see this heatspreader design go. The new Ballistix MAX modules feature a more "standard" style heatspreader design with fewer moving parts. While heatspreaders are not a requirement on DDR4 memory it is nice to have a unique design that helps make the modules stand out.