Ballistix Elite DDR4 4000 CL18 Memory Review
Author:

Dennis Garcia
Published:
Tuesday, March 03, 2020

Conclusion
In this review we looked at the Crcual Ballistix Elite DDR4 4000Mhz Quad Channel memory kit. These are a performance gaming memory module supporting all of the current DDR4 motherboard platforms. When these modules launched they were the fastest module in the Ballistix lineup and were on the market slightly before the launch of the Threadripper 3 and the 3000 series Ryzen processors. This was a primary driver for setting another memory frequency record using a Ryzen 5 at Micron Insite 2019.
Interestingly enough I got these modules early and intended to test them on a Threadripper 3. The processor was delayed and in the interest of time I did my performance testing on a Core i9 9900k but, I held out publishing my results until I could run them on the fabled platform.
Much to my surprise 4000Mhz memory on Threadripper is actually slower than you would expect. This has something to do with the Infinity Fabric (memory controller) being most efficient when running the memory clock and controller clock 1:1. The processor maxes out at 1800Mhz meaning that 3600Mhz is the magical number (DDR is Double Data Rate afterall). Dropping the XMP (or AMP) frequency from 4000Mhz to 3600Mhz was actually faster and would be my recommendation when running the Ballistix Elite 4000Mhz on an AMD platform.
On the Intel side of things there is a practical limit to memory performance and some tuning is always required however, the penalty is nothing like the performance gap seen on the Threadripper 3.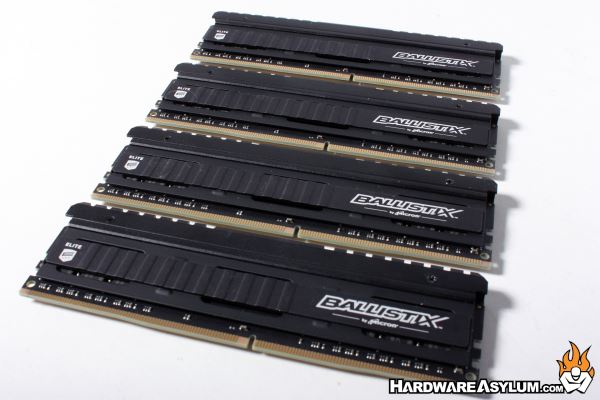 Overall I am a fan of the Elite memory modules. They may not be the fastest on the market or have any fancy RGB lights but they are solid performers and have plenty of overclocking headroom. This headroom helped me set a GTX 1050Ti global first place while running my Core i9 at 6.1Ghz under LN2 and then later used the same modules in a Lanparty rig for a weekend of gaming. Not once giving me any issues and overclocked every time.
I should mention that the modules featured in this review are using the older "classic" Elite heatspreader design. When I met with Crucial during CES 2020 and got to see the new Elite modules which will now be called MAX featuring a new heatspreader design and versions with and without RGB and custom colors. Memory speeds will range between 2400Mhz and 4400Mhz with the MAX modules owning the 4000Mhz and 4400Mhz module speeds.
Finally Crucial is back in the performance memory game and you should be too.
Good Things
High Speed Modules
Plenty of Overclocking Headroom
Available in Speeds up to 4400Mhz
Excellent Out of Box Performance
Bad Things
Be sure to pick modules that match your processor platform, sometimes the faster modules are slower
Hardware Asylum Rating