Geil DDR4 Evo X Gaming Memory Review
Author:

Dennis Garcia
Published:
Thursday, December 01, 2016
Introduction
The hottest thing this hardware season has been RGB LEDs. They seem to be everywhere from motherboard lighting effects to video cards, keyboards and even cases. Thing is in a custom PC build many of these lights are only viewed indirectly due to how things get installed and with so many different lighting options it is difficult to get everything in sync.
In this review I'll be giving you a quick overview of the Geil DDR4 Evo X memory system including options and features. The Evo X series is a very unique line of memory modules designed to take advantage of the RGB lighting craze by adding RGB LEDs to the top of their memory modules. These lights can then be controlled by a supporting motherboard including Aura Lighting Control from ASUS, Ambient LED from Gigabyte, and Mistic Light from MSI.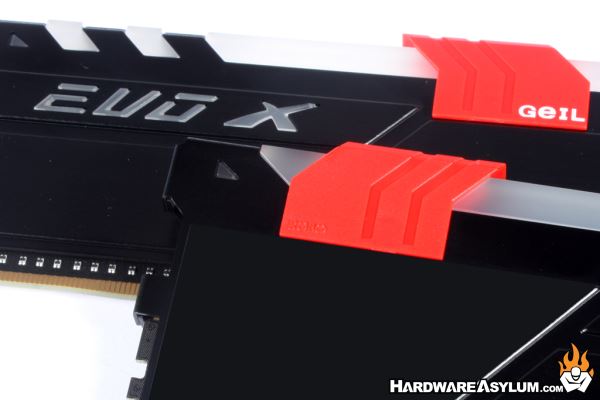 These aren't activity lights but rather a separate PCB added to the memory module. Geil calls this module a HILM or Hybrid Independent Light Module and while part of the heatspreader they are physically separated to limit electrical interference. If you remember "back in the day" several companies has LED activity lights on their modules which eventually had to be removed to increase memory speed and reduce interference. Having the light and memory module separated eliminates the electrical problem but, brings up another,
"How do you control the lights?"
By default the Geil Evo X modules operate in a "breathing" mode that slowly flashes and cycles through a series of seven colors. Across the top of the memory module you'll find a red switch that has four positions. The default is the multi color cycle however moving the switch will lock the color to one of the three primaries, Red, Green, Blue.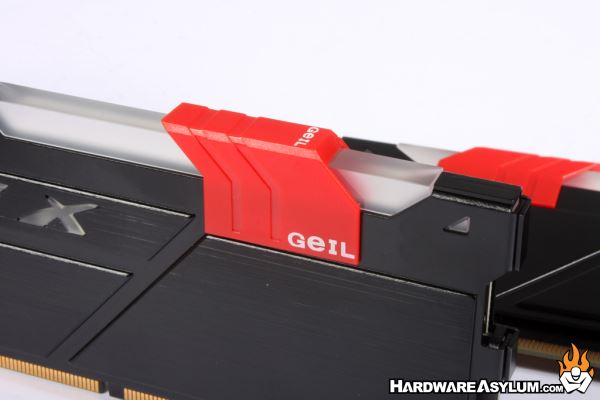 On motherboards with RGB LED control you can connect the modules directly to the 4-pin RGB header and control them using the motherboard software. This opens up a wide list of possibilities to color match everything in your build and doing so with a single lighting controller.
To activate the modules you'll need external power which is drawn from a standard 3-pin fan header. The 12v power signal is then connected directly to the module. Unfortunately the power and RGB control headers are on opposite sides of the module making cable management a little more difficult but not impossible.
Geil DDR4 Evo X modules are available in dual channel kits at the following capacities 8GB, 16GB and 32GB. Speeds range from 2133Mhz up to 4133Mhz when matched with a supporting motherboard and come with respectable timings and voltage requirements.
If RGB lighting is a key feature in your build then be sure to check out the Geil DDR4 Evo X memory modules and avoid any dead spots in your lighting array.
Available Images