GeIL Super Luce RGB Sync RAM CL16 3000MHz 16GB Review
Author:

Dennis Garcia
Published:
Tuesday, October 30, 2018

Introduction
During Computex 2018 ASUS launched a new hardware campaign called "ASUS TUF Gaming Alliance". This campaign was more than a marketing message to sell more motherboards but a global initiative that included not only ASUS but many other hardware vendors to build brand specific versions of their hardware specifically for ASUS TUF Gaming Alliance motherboards
ASUS TUF Gaming Alliance partners included a variety of different hardware from coolers and power supplies to cases and storage. Partners in the ASUS TUF Gaming Alliance would gain access to brand specific graphics and colors used to create their product. Overall this is a "win win" for everyone involved as ASUS would help sell these branded parts, users can be assured the components would work well together and all the vendors had to do was deliver.
In this review I'll be looking at the GeIL Super Luce RGB Sync memory. (GLTS416GB3000CL16ADC). This is a dual channel memory kit rated at DDR4-3000Mhz with latencies of CL16 at 1.35v. At launch these modules will be available in a variety of speeds from 2400Mhz to 3200Mhz with module densities of 4GB, 8GB and 16GB. What makes these modules truly unique is that they were specially designed for the ASUS TUF Gaming Alliance and offer RGB lighting effects.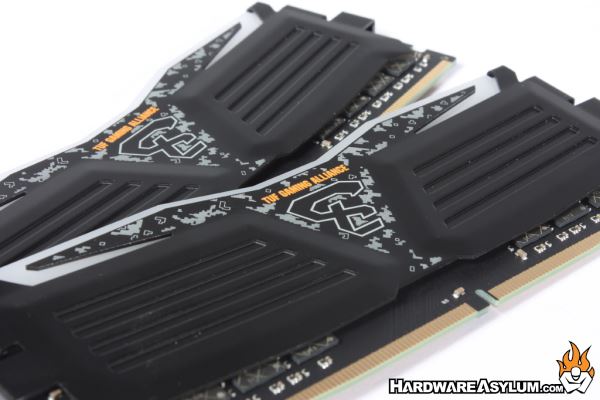 I have been working with computer hardware for a very long time and over the years I have seen, and used, a variety of different products from vendors who have strived to stand out. This was great as it gave vendors something to market against and something for consumers to look at while shopping in the store.
The challenge comes when building a custom rig. Of course you want to get the best hardware possible but also want to keep inside the confines of your build parameters. For instance the motherboard might be black and orange but without orange memory modules or color markings on a video card those accents would quickly disappear. Likewise a large memory module with cooling fins across the top might be great but speaks more about the memory than the system as a whole.
The ASUS TUF Gaming Alliance helps to solve that problem by encouraging a symbiotic relationship between motherboard and hardware accessories.