GeIL Super Luce RGB Sync RAM CL16 3000MHz 16GB Review
Author:

Dennis Garcia
Published:
Tuesday, October 30, 2018

Conclusion
In this review we looked at the GeIL Super Luce RGB Sync DDR4 CL16 3000Mhz Dual Channel memory kit (Look at all of them juicy keywords). This is a memory kit designed to complement the ASUS TUF Gaming Alliance motherboards and other modern DDR4 systems including the Intel 100/200/300 series chipsets and AMD Ryzen based motherboards. Not only do the modules look good but are currently available in speeds ranging from 2400Mhz up to 3200Mhz with module densities of 4GB, 8GB or 16GB. Memory timings will vary based on module speed and the 3000Mhz kit featured in this review has a CAS of 16.
The benchmarks were recorded on an ASUS TUF Z370-Plus gaming motherboard using a Core i7 8700K CPU. This is different from our normal test bench and despite this I'm still very impressed with the results. Dual channel performance was quite good and showed that faster memory is worth the additional cost. GeIL has always strived to offer modules with better specs often the expense of any additional overclocking headroom. To help offset this GeIL offers the Super Luce in speeds up to 3200Mhz and features built in RGB LEDs that will sync with ASUS Aura and all ASUS Gaming Alliance motherboards.
A key feature of the ASUS Gaming Alliance is that products are designed to complement the ASUS TUF series motherboards. The compliment is in qualified performance meaning that the product is guaranteed to work and in most cases will also graphically match. This is an important feature when it comes to building a gaming PC where style and budget both come into play.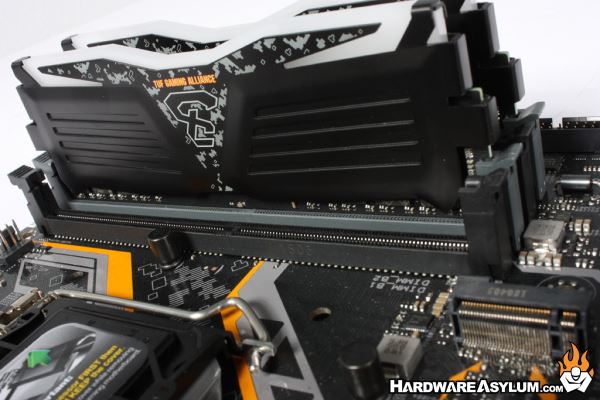 In terms of graphic style the GeIL Super Luce RGB Sync modules have a touch of ASUS TUF when they replaced the background of their standard Super Luce module with the TUF graphics. In my opinion this is taking the easy way out and also turns out to be a rather inexpensive option. In looking at some of the other designs presented at Computex you can tell manufactures were not completely sold on the ASUS Gaming Alliance and simply rebranded their current products to take advantage of the hype.
From a performance standpoint we get a 3000Mhz module with decent timings and RGB lighting effects. This is a good combination for a gaming rig and is right in the sweet spot where all current systems on the market can operate efficiently at a slightly higher than JEDEC spec. The TUF modules featured in this review are just one of the many options from the Geil Super Luce memory lineup so be sure to check them out.
Good Things
Great Heatspreader Design
Available in speeds up to 3200Mhz
RGB LEDs
ASUS Aura Sync
Bad Things
Single XMP profile
Very limited module overclocking