Lexar Ares 5200Mhz DDR5 Memory Review
Author:

Dennis Garcia
Published:
Wednesday, May 11, 2022

Lexar ARES Memory Overview
We have seen a number of Lexar memory products come though the Hardware Asylum labs. Some were RGB enabled while others were extremely small and easy lost in the living room rug. Despite the differences they have a common thread in build quality.
You could never mistake a Lexar product when it comes to overall design from a stylish heatspreader down to the construction of the memory part featuring expertly crafted components.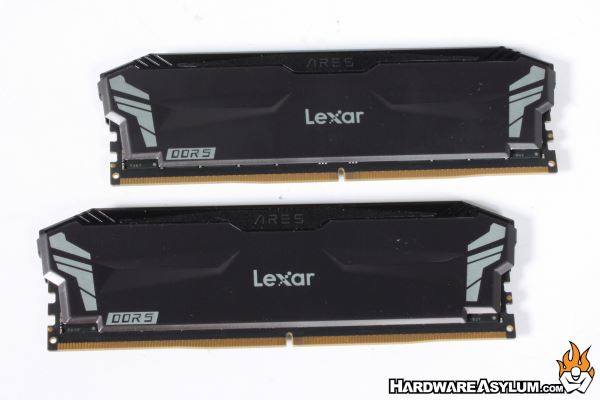 The ARES is no different, in fact they have some of the nicest heat spreaders I have seen in a while and work well as an entire design package. What impresses me the most is that the heatspreader material is quite thin and yet how it has been formed not only, gives the heatspreader strength but hides the fact that the metal is rather inexpensive.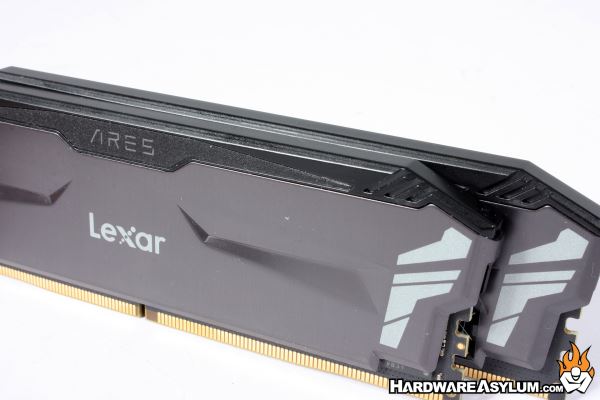 Across the top of the module you will find a plastic cap which resembles an RGB light bar but, has been completely blacked out. This could allude to a future ARES RGB enabled edition product (hint hint) using the same heatspreader design.
I am a little disappointed that Lexar didn't take advantage of the plastic cap for any additional product marketing. Instead, you'll find the Lexar logo imprinted along the sides in a very small and difficult to read juxtaposition of conflicting textures.