Lexar Ares 5200Mhz DDR5 Memory Review
Author:

Dennis Garcia
Published:
Wednesday, May 11, 2022

Benchmarks - Overclocked
As with all of our reviews, we pit the default speed system against the overclocked one in a head-to-head byte match. The only difference is that with our memory reviews we leave the base system (CPU, Chipset etc..) at default speeds so that the only thing we are changing is the memory module. You can see this with the Sandra CPU Tests and at that point the only performance advantage is from increased memory performance.
There are different approaches to overclocking memory and while you may not get an extra 25FPS in your games the increased bandwidth and lower latencies can often unlock the potential for better system efficiencies.
The effective overclock for these tests was 5600Mhz and to attain these clocks the XMP profile was disabled, memory frequency was set to 5600Mhz, voltage was increased to 1.35v and timings were set to auto allowing the motherboard to train the timings to a preset value.
5600Mhz (40-40-40-76)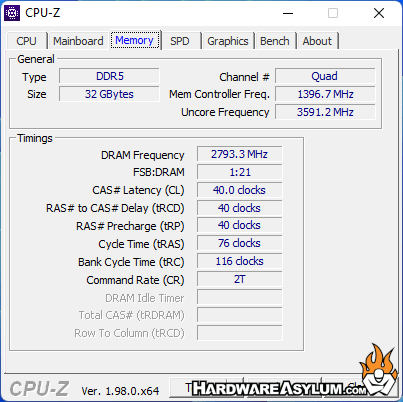 SiSoft Sandra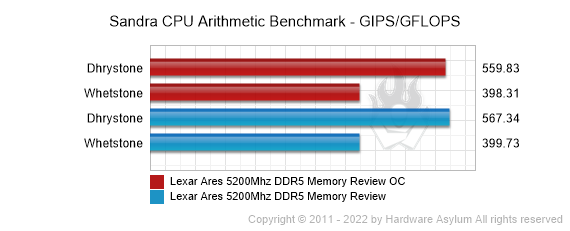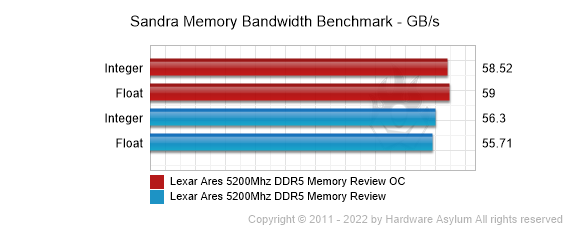 AIDA64 Extreme Edition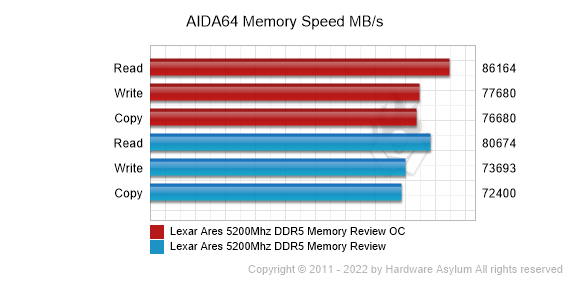 Unigine Heaven Benchmark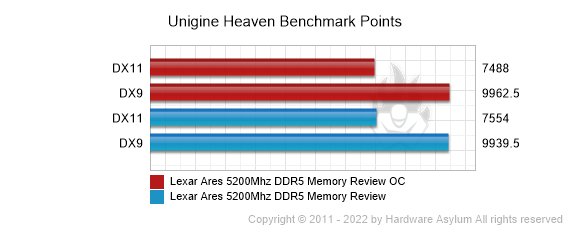 BAPCo SYSmark 25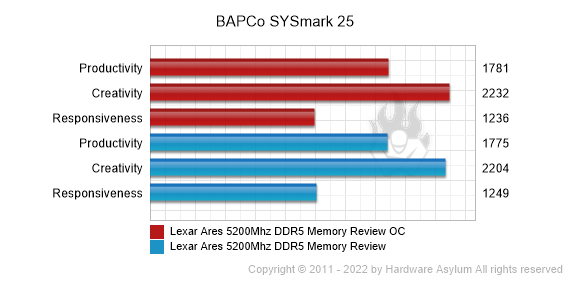 UL PCMark 10

Overclocking Conclusion
Memory overclocking is a pretty arduous task of trial and error. As with most overclocking there is a balance that we want to maintain including the relationship between temperature, voltage and frequency. Given that your system memory also drives CPU performance it is not uncommon to see performance go down with an overclock that has been pushed too far or has a mismatched setting.
In this review I used the ASUS Strix B660-I Mini ITX motherboard. The chipset is not designed for overclocking but, allowed me to do a number of memory tweaks and seemed to be the perfect platform for removing the CPU from the equation.
Much to my surprise these Lexar ARES DDR5 memory modules can do a bit of overclocking provided that you are willing to experiment a bit. When the XMP profile set there was no amount of tweaking or voltage adjustments that would allow any sort of overclock. This corresponds well with my experience overclocking the Crucial 4800Mhz modules.
However, if you disable XMP and allow the motherboard to train the timings I was able to get an extra 400Mhz for a total of 5600Mhz. Ultimately the timings got reduced to CL40 AND I needed to raise the voltage to 1.35v to keep the system stable. Unfortunately, I got mixed results when it comes to performance gain. Synthetic benchmarks responded well to the increase in bandwidth and was able to shave a few points in the real-world benchmarks but, not enough to really warrant the effort.
Needless to say, the default XMP profile has been tuned quite well and should be used over manual adjustments.