Thermaltake Toughram XG RGB 4000Mhz 16GB Memory Review
Author:

Dennis Garcia
Published:
Tuesday, June 22, 2021

Conclusion
In this review we looked at the Thermaltake Toughram XG DDR4 4000Mhz Dual Channel memory kit. These kits are currently available in (2x8GB) 16GB kits with speeds ranging from 3600Mhz to 4600Mhz. The modules feature a very decorative heatspreader design and are on point when it comes to RGB illumination.
I have been using and reviewing memory for many years and to be honest these modules have left me with very little to say. As the benchmarks have shown these modules performance exactly how they should, the RGB lighting can rival that of the popular GSKill Trident Z RGB modules and the kits are available in all of the popular sizes and speeds.
Thing is, that is about all they are good for and, I'm not sure if I am ok with that.

From a build perspective I find the Toughram XG modules to be "built for photos" either action photos in your build or spread across websites and Amazon storefronts. They look amazing and yet when you touch them you can tell the metal is so thin and weak that the three independent metal bits flex when squeezed and will easily peal from the module.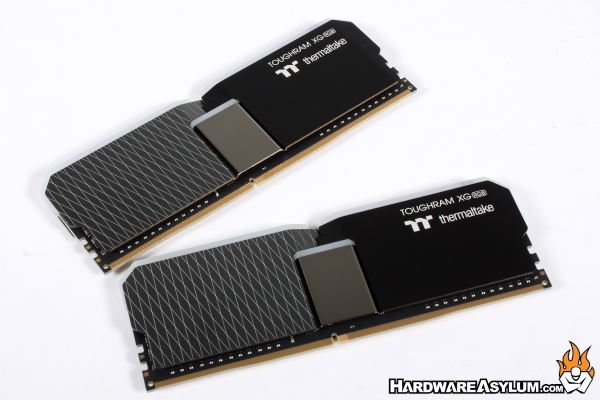 I know for a fact that EVERY heatspreader on modern memory modules is purely decorative and serves no real purpose but, they have been a part of PC memory for so long that they are a badge of excellence that indicates these modules are for enthusiast PC's and Gaming builds. However, there are Decorative heatspreaders, Functional heatspreaders and Junk heatspreaders and I'm leaning toward the last category on this one.
The final bit that gets me is how these modules have Zero (0) overclocking ability. The timings have much to be desired and any frequency or timing change renders them as unbootable.
Along with heatspreaders the ability to overclock memory modules is rather moot but, when you consider the modules used as a reference in this review (TridentZ) are over four (4) years old, feature better timings, higher speeds, Great RGB and CAN overclock it makes you wonder why anyone would even bother.
Overall, the Toughram XG modules do the job and look great doing it. With the imminent release of DDR5 it is clear that Thermaltake wanted to get one last DDR4 memory release out the door before everything is retooled and help PC builders get some awesome Addressable RGB memory modules before they are gone forever.
While I might not find them all that impressive, they do what they are advertising and you cannot ask for much more than that.
Good Things
Great ARGB Lights
Dual RGB Zones
Decorative Heatspreader Design
Bad Things
Cheap material used for heatspreaders
No overclocking ability
Timings are pretty bad