EVGA X79 Dark Motherboard Review
EVGA X79 Dark Motherboard Review
Author:

Dennis Garcia
Published:
Monday, September 09, 2013

Board Layout and Features
Some of the most popular EVGA motherboards follow a classic color scheme featuring a jet black PCB and red expansion slots. Well, the X79 Dark is breaking with tradition and has rescinded the red color to be a muted accent leaving black to speak volumes. While taking photos of an entirely black motherboard isn't what you call easy we actually like the new direction.

The PCB is considerably thicker than what was found on previous EVGA motherboards and by thicker we mean 12 layers deep! Not only does this increase overall board strength but also helps to improve signal integrity for higher buss speeds.

Flipping the motherboard can tell us a lot about how it is constructed including where some of the major chips are located. Every PCI Express slot is fully wired meaning that the full slot width is soldered to the PCB. As we will see later in this review that doesn't always mean each slot comes with full set of PCI Express lanes.

EVGA has chosen a traditional VRM design that places all of the power phases above the processor socket between the memory banks. Keeping the VRM cool is a cornerstone in X79 performance and is why EVGA has included an extremely larger heatsink that covers the entire assembly. Despite the proximity to the CPU socket insulating around the VRM is extremely easy, especially with kneaded eraser, given the size and position of the capacitors.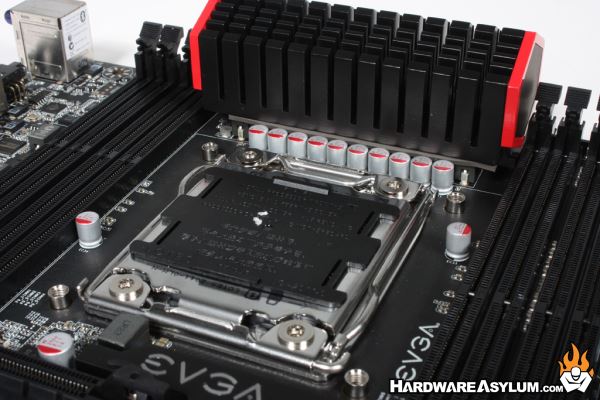 Moving towards the CPU socket we can see that EVGA went with a non-standard heatsink retention system that places the threaded mounts and reinforcement plate under the PCB. Early on we considered the top mounted retention plate to be a flaw in the LGA 2011 socket design and were happy to see that ASUS included a socket plate that attached under the PCB on the Rampage 4 Extreme.

EVGA is using the same retention method and even includes a secondary plate that removes the threaded mounts and allows old LGA 1366 heatsinks to be used. This is most helpful in the area of watercooling given that many of the most popular block designs haven't been ported over for use on LGA 2011.

Much to our surprise EVGA didn't opt for the black chrome mounting hardware stating that they couldn't find enough at the time of production. While this is unfortunate you will never know the difference once the heatsink has been installed.