EVGA X79 Dark Motherboard Review
EVGA X79 Dark Motherboard Review
Author:

Dennis Garcia
Published:
Monday, September 09, 2013

Conclusion
EVGA motherboards are extremely popular in the enthusiast world due in part to the EVGA community. These loyal fans are one of the driving forces behind many of the design decisions and things like the decorative I/O cover. However, outside of the EVGA community we find the EVGA motherboard brand to be rather soft spoken and elusive. With any luck the X79 Dark will change that especially among those interested in the new IVB-E.

Some of the key features with the X79 Dark is the PCI Express layout that is uniquely designed to favor both 2-way and 3-way SLI configurations. Most of the previous X79 motherboards favored 4-way GPU setups which has been obsoleted by nVidia through driver restrictions. Having a good PCI Express layout may not help you get world records in 3DMark Firestrike but does ensure good performance when building a custom rig.

When it comes to overclocking we found the X79 Dark to be one of the easiest systems to use and attribute it all to the new UEFI system layout and a little experience on our part. We have seen many companies working hard to create the best looking UEFI system interface and in the end the best interface is the one that is easy to navigate and usable at a glance. We feel that EVGA has accomplished this and hope they only improve from here.

Proper cooling is extremely important when overclocking the X79. Not only do you need good processor cooling but you have to also keep the VRM chilled given how much power it draws. EVGA has made the VRM part easy thanks to the oversized heatsink.

For the record we found that 4.7Ghz was extremely easy to obtain. Simply increase the core voltage slightly and raise the multiplier up to 47x. However getting past 4.7Ghz proved to be a bit of a challenge until we enabled the Internal PLL Override. After that 5.1+Ghz was easy and ran exactly how we had expected. This feature is similar to the PLL Overvoltage found on the Z68 chipset and by enabling it you could run most 2600k processors past 5Ghz. As we have mentioned many times your overclocking adventure can vary but with the EVGA X79 Dark it should be fun and easy.
Good Things
Black Color Scheme
PCI Express Disable Switches
Onboard Voltage Test Points
Oversized VRM Heatsink
Onboard Bluetooth
EVBot Connector
Excellent UEFI Menus
Flexible PCI Express Layout
12 Layer PCB
Easy To Insulate
Ivy Bridge-E Ready
Bad Things
Missing cpu fan headers near cpu socket
Really miss the red accents

Ninjalane Rating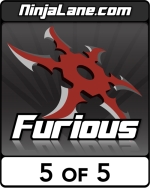 EVGA X79 Dark Motherboard Review
Furious 5 of 5
https://www.hardwareasylum.com