Aorus AX370 Gaming 5 Motherboard Review
Aorus AX370 Gaming 5 Motherboard Review
Author:

Dennis Garcia
Published:
Monday, May 01, 2017

Board Layout and Features Continued
Dual channel memory comes standard on the Ryzen processor and the AX370 Gaming 5 supports standard speed DDR4 modules up to 2133Mhz with overclocking support beyond that. A maximum of 64GB is addressable with the proper module density.
Maybe one of the most over-to-top additions to this motherboard is the inclusion of the "Ultra Durable Memory Armor" which consists of a single piece of stainless steel shielding with a couple of intended benefits. The first is to reinforce the memory sockets to prevent PCB distortion. This makes sense considering that installing memory often introduces flex on the PCB, especially when the motherboard isn't properly mounted. (read the instructions people). The second benefit is ESD prevention due to a larger grounding surface.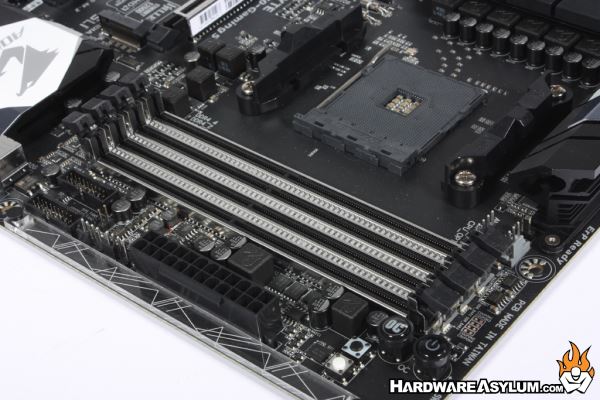 In between the slots you'll find a row of lenses which helps diffuse the RGB LED light. USB 3.0 sockets are located along the left while to the right you'll find an OC and Power button, you know for power and auto overclocking, if you are into that sort of thing.
Along the edge you'll find a rather decorative plastic part that is also an RGB LED diffuser. The lines in the plastic are edge highlighted and help to spread the light around. This accent LED is swappable meaning that you can further personalize your builds using a 3D printer and your imagination.
NVMe SSD Support
Internal SATA connections number eight and follow the SATA6 connection standard. Four of the SATA connections can be used as SATA Express and all of which are connected to the AX370 chipset.
The Ryzen CPU features four lanes of PCI Express dedicated to storage which can be used for M.2 and U.2 anywhere on the motherboard. Gigabyte has included both connectors on the Gaming 5 however, only one can be used at a time.
You will find a single M.2 connector on the Aorus AX370 Gaming 5 and supports M Key type drives up to 110mm in length.