Aorus AX370 Gaming 5 Motherboard Review
Aorus AX370 Gaming 5 Motherboard Review
Author:

Dennis Garcia
Published:
Monday, May 01, 2017

Onboard Connections and Audio
Along the I/O panel you will find a single PS/2 Keyboard and Mouse port. There are a total of 10 USB parts including two USB 3.1 (yellow), four USB 3.1 (blue), four USB 3.1 Gen 2 (red) ports are provided with one being a new reversible Type-C connection and two DAC ready ports with adjustable voltage (yellow). You will find two RJ-45 network connections and are both powered by a Killer E2500 controller. Onboard audio is handled by five gold plated 8-channel analog connections with digital connections over optical.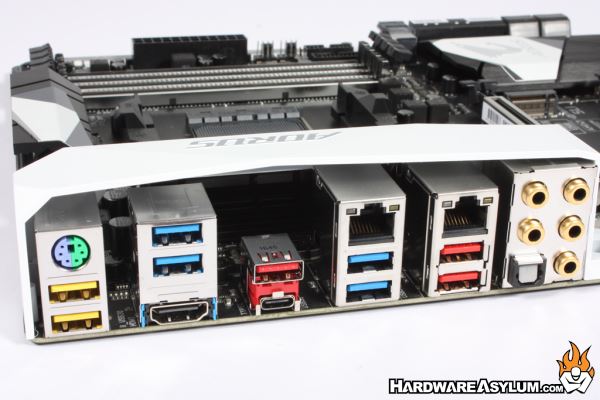 Onboard video is dependent on your choice in Ryzen CPU. For Ryzen 7 and 5 this port will be disabled however, for newer Athlon CPUs they will come with an onboard video controller which will enable the HDMI port.
Onboard Audio
The AORUS AX370-Gaming 5 offers dual ALC1220 Codecs, a high-performance multi-channel high-definition Audio Codec with 120dB SNR. These Codecs offer crystal clear audio and features such as Smart Headphone AMP, 114dB SNR recording for precise voice chats and hardware decoding of DSD128, ensuring users get the best possible audio quality.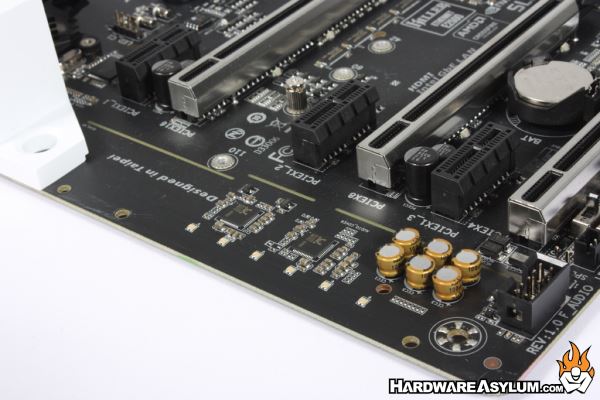 Like on previous motherboards the onboard audio is constructed on an electrically separated section of the motherboard to reduce EMI and offer the best chance at good audio reproduction. At first I thought there was some PCB trickery that prevented the audio components from passing though the PCB but in reality the entire controller is just extremely small occupying the bottom most section of the board.
Included Goodies
One of the benefits to upgrading to a specialized motherboard is that not only do you get more features onboard but also in-box. The Aorus AX370 Gaming 5 comes with a number of accessories including what you see below.
Unlike on some other gaming motherboards the Aorus only supports two physical cards in SLI so it makes sense that you would only get a single SLI bridge. This is a High Bandwidth bridge supporing the latest Pascal GPUs and even has metal reinforcement shields to keep things consistent. You also get a RGBW extension cable and high quality I/O shield and some SATA cables.