Gigabyte X58A-OC Overclocking Motherboard Review
Gigabyte X58A-OC Overclocking Motherboard Review
Author:

Dennis Garcia
Published:
Friday, July 29, 2011

Introduction
Radical changes in the hardware community are often what create trends that others will eventually follow especially when they are done well and make sense. In the early years of motherboard design we would often see boards that offered whatever was supported by the chipset. This ment that if you wanted audio you installed a sound card, if you wanted network access you installed a network card. However, if you wanted to make your system run faster you either had to hack the motherboard or find a vendor who offered that functionality

As overclocking became more popular so did attempts to make products more attractive to consumers by adding more features to the board including high end audio chips, RAID controllers and network adaptors. Overclocking during this time was still rather new but folks quickly realized that disabling these onboard devices really helped overall performance. It wasn't until the DFI LanParty series hit the market that mainstream overclocking really started to take off and became a standard feature on enthusiast systems.

In this review we will be looking at a specially designed motherboard from Gigabyte called the X58A-OC. There are several things that make this motherboard unique. The most important is that it was designed specifically for overclocking by overclockers for overclockers. This is a radical change for motherboard marketing strategies that considered on gamers and enthusiasts to be the same group.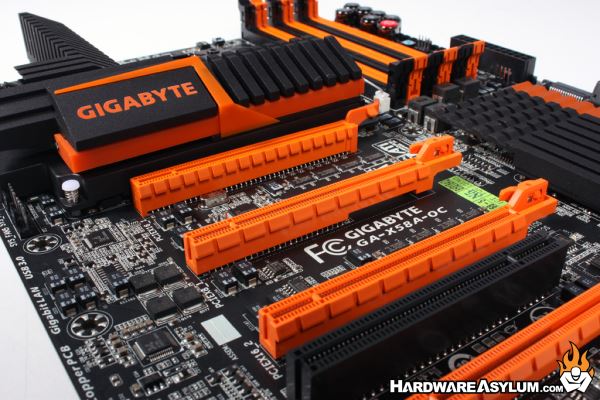 The X58A-OC was first shown as a teaser during CES 2011 indicating a flip side to the gaming boards they had just announced. The segmentation is a new direction for Gigabyte and will be the first step in creating specialized motherboards for specific purposes. While the X58 is an extremely mature motherboard platform it still enjoys being the current performance leader and likely will still remain popular even after being replaced by the Intel X79.