Gigabyte X58A-OC Overclocking Motherboard Review
Gigabyte X58A-OC Overclocking Motherboard Review
Author:

Dennis Garcia
Published:
Friday, July 29, 2011

Multi GPU Index
A new feature we are adding to all of our motherboard reviews is what we call the Ninjalane Mulit GPU Index. The Multi-GPU index is a portable set of data we can apply to determine the multi-gpu potential of any motherboard. A higher index number indicates a favorable condition for multiple graphics cards while a lower number indicates a hindrance in one of our leading indicators. Since the Index does not take into consideration system architecture it can be applied to motherboards regardless of processor or chipset generations.
Multi-GPU Scorecard
Index: 4.75
Optimized: 2x
Max Support: 4x
Technologies Supported
NVidia SLI
AMD Crossfire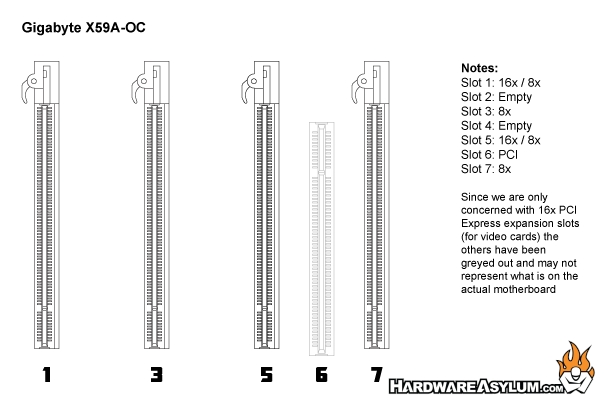 The Intel X58 comes with enough PCI Express lanes to support up to 4 graphics cards with 8x lanes dedicated to each card. Our chart indicates that the X58A-OC can support 3 graphics cards with dual slot coolers and still fit in a standard ATX case without any further modifications.

For the best performance you'll want to populate slots 1 and 5 since these are the primary 16x slots with full bandwidth. Once slots 3 and 7 are populated the 16x lanes divide with 8x lanes of bandwidth each. This creates an interesting situation where the topmost card is no longer considered the bandwidth primary in triple card operation.

When running more than one GPU you may encounter stability issues due to your graphics cards pulling too much power across the PCI Express bus. To remedy this you'll find two SATA power connectors near the SATA drive connections that dedicate power to each half of the motherboard.