Gigabyte X58A-OC Overclocking Motherboard Review
Gigabyte X58A-OC Overclocking Motherboard Review
Author:

Dennis Garcia
Published:
Friday, July 29, 2011

Board Layout and Features Cont.
The majority of enthusiast style overclocking occurs on an open air bench and having a way to control the system without shorting jumpers is extremely helpful. OC-Touch is an extension of that concept to give overclockers a way to power tweak their systems and not have any extra software running in the background. This system not only allows you to adjust CPU BCLK and Multiplier but also gives the novice overclocker a convenient way to reach 4Ghz, with any processor, at the touch of a button.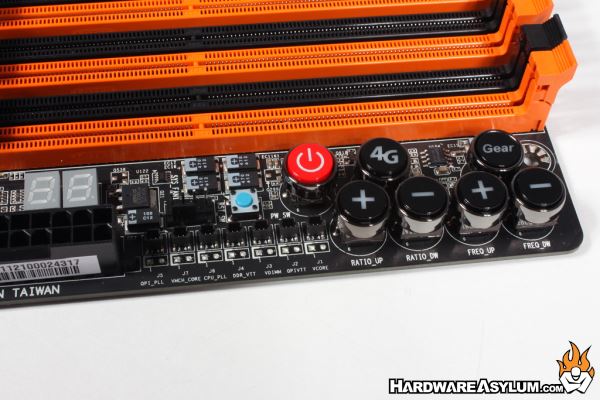 Seven voltage test points are located next to the OC-Touch buttons and can be used to monitor a variety of system voltages. There are no PCI Express disable switches on the X58A-OC so troubleshooting video card issues can be a little difficult.

There are no IDE ports on this motherboard but you will find eight SATA ports. Six SATA2 connections come directly from the south bridge. The remaining follow the SATA3 spec and are provided by an onboard Marvell controller.
PCI Express power is provided by the two SATA power connections instead of a traditional 4 pin Molex. The idea here is to get the extra power connections away from the video cards and thus out of your way while overclocking. Given the prevalence of SATA drives in a modern computer using SATA power simply means you can leave your Molex power leads in the bag.

Gigabyte has always offered a dual BIOS option on their motherboards and this marks the first time you have been able to actively switch between those BIOS chips. True dual BIOS means you can test out alternative configurations or even gain access to 8 more CMOS overclocking profiles. The micro switch marked SW4 is how to choose between them.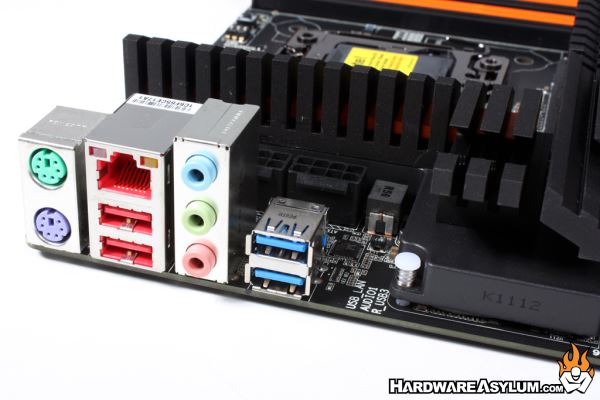 The I/O panel is rather unique, not by how much stuff is available but rather the lack there of. Due to the overclocking nature of this motherboard all of the extras and nice to have components have been stripped away leaving you with PS/2 ports for keyboard and mouse, two USB 2.0 ports, two USB 3.0 ports (from the Marvell controller) three audio jacks and a single gigabit Ethernet RJ-45 keystone. The motherboard supports 7.1 channel sound when using a front panel module, which is not included,