Gigabyte X58A-OC Overclocking Motherboard Review
Gigabyte X58A-OC Overclocking Motherboard Review
Author:

Dennis Garcia
Published:
Friday, July 29, 2011

Motherboard Cooling
Cooling a high end motherboard has always been a challenge. In our experience the majority of motherboard heatsinks are undersized, and with the exception of a handful, lack any real innovation in their design. The heatsinks found on the Gigabyte X58A-OC is very different for a number of reasons.
They are extremely large
Segmented to facilitate removing one or both separately
Have accent lighting
The north bridge heatsink is a single unit that covers both the north bridge chip and motherboard PWM. It is technically a two part heatsink with a heatpipe cooler at the bottom and cooling fins running across the top. The orange plastic you see in the middle is covering the accent lighting which is activated when the board is running.
The south bridge cooler is a simple flat heatsink with segmented fins on one end to increase surface area and cooling. At the bottom you will find another plastic panel covering three more accent lights.

Both of these coolers are held in place with simple screws and a few plastic clips.
Overall cooling is handled by seven onboard 4 pin fan headers making this one of the few boards to support so many.
Included Goodies
The Gigabyte X58A-OC comes with everything shown here, It may not look like much but it is everything you need to get up and running.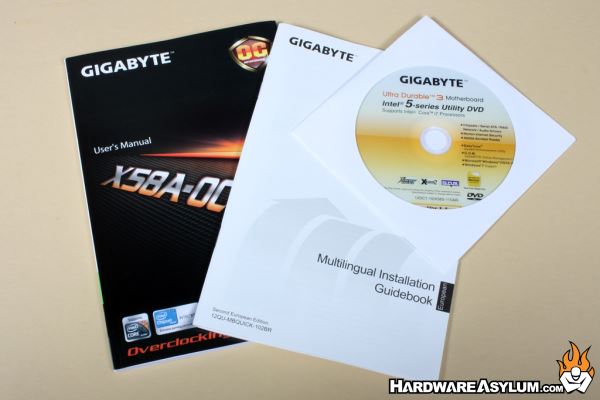 Due to the length between primary video card slots you will find than an extra long Crossfire and SLI bridge cable has been included.