Gigabyte X79 UD3 Motherboard Review
Gigabyte X79 UD3 Motherboard Review
Author:

Dennis Garcia
Published:
Tuesday, January 24, 2012

Multi GPU Index
The Ninjalane Multi-GPU index is a portable set of data we can use to determine the multi-gpu potential of any motherboard. A higher index number indicates a favorable condition for multiple graphics cards while a lower number indicates a hindrance in one of our leading indicators. Since the Index is not dependent on system architecture it can be applied to any motherboard regardless of processor or chipset generations.
Multi-GPU Scorecard
Index: 6
Optimized: 2x
Max Support: 4x

Technologies Supported
NVidia SLI
AMD Crossfire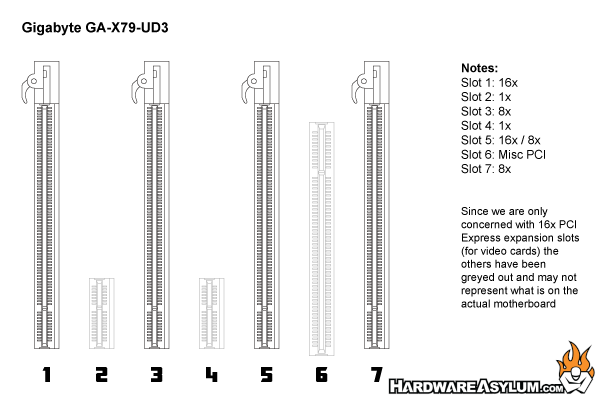 This motherboard will support up to four graphics cards and is optimized for dual card operation. Despite support for four-way video card setups there are no additional PCI Express power connections leading us to believe there is either enough power available over the PCI Express bus or that the CPU doesn't require any additional power to support four graphics cards.

For best video performance you will want to populate slots 1 and 5 with video cards. Try to avoid slots 3 and 7 unless you are running three or more devices since they are hardwired to 8x and only active if the slot is populated. While this isn't part of the Multi GPU Index keep in mind that any PCI Express device you install into these slots will prompt the lanes to split reducing bandwidth to your video cards.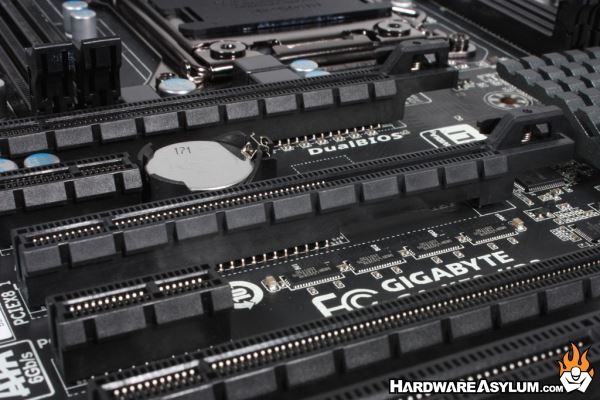 Gigabyte is one of the few manufactures that actually hardwires their PCI Express slots. Not only does this save valuable trace space on the PCB but allows them to use custom 16x sockets with half of the pins removed. Cost savings to Gigabyte? You bet! Cost savings to the end user? Not so much.