Gigabyte X79 UD3 Motherboard Review
Gigabyte X79 UD3 Motherboard Review
Author:

Dennis Garcia
Published:
Tuesday, January 24, 2012

Conclusion
It is always difficult breaking in a new hardware platform and while X79 has been out for awhile there are still many things to explore and different hardware combos to try. If you are looking for an inexpensive option to get you on the X79 bandwagon the UD3 might just be your motherboard. Overall we had a good time using the X79 UD3 and were surprised to see how much stuff was onboard including USB3.0, extra SATA 6.0 ports from an onboard Marvell controller and the onboard Ethernet is Intel branded and wired directly into the. Combine that with support for 4-way SLI and you have the making of a good enthusiast system, workstation or gaming desktop.

The motherboard layout is extremely good and mirrors what you will find when looking up the ladder at the X79 UD7. Slot spacing will allow you to run two extremely large video cards with no hindrance in cooling performance. If you opt for a triple or quad GPU setup your only concern will be making sure the chassis is large enough to handle the fourth card located at the bottom.

Overclocking on the X79 UD3 did leave us feeling a little indifferent and wanting more. It wasn't that the board wasn't capable, we have all seen some of the records, but rather that the board was missing a few key components required to make overclocking fun. For instance all of the motherboard testing in the Ninjalane Labs is done on an open air test bench and because of this we have a few tools to help us handle the various boards we test. The most important of them is a debug card that will show us the POST codes as the system is booting. Since there is no POST indicator, lights, or anything on the X79 UD3 we found that using a debug card was the only way to tell if the system was going to boot. The long POST times while the system resets itself kept us guessing, would these settings work? Or was the system going to hang?? More often than not we found ourselves hitting the reset switch thinking the system had stalled when really it was just being slow.

Good Things
Inexpensive X79 Performance
Four-way SLI / Crossfire Support
Intel Ethernet Controller
2oz Copper Motherboard
3D UEFI Bios
Bad Things
No POST indicator, difficult to debug when overclocking
Cannot rename saved profiles
Only four hardware profile slots available
Ninjalane Rating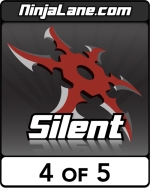 Gigabyte X79 UD3 Motherboard Review
Silent 4 of 5
https://www.hardwareasylum.com