Gigabyte X99 Gaming 5P Motherboard Review
Gigabyte X99 Gaming 5P Motherboard Review
Author:

Dennis Garcia
Published:
Wednesday, July 01, 2015

Introduction
Earlier this year Gigabyte released a new overclocking motherboard called the X99 Champion. This motherboard was special since it took a different approach to overclocking and instead of focusing on raw CPU frequency they tuned the motherboard for memory and Uncore overclocking. To do this Gigabyte needed to use a special CPU socket that allowed you to apply voltage to the Uncore on the CPU and thus increase the frequency. Uncore is basically the Northbridge and controls the memory cache independent of the memory frequency.
In this review we will be looking at the Gigabyte X99 Gaming 5P motherboard which is part of their G1 Gaming line of motherboards and also part of the Champion series. Those of you familiar with the Gigabyte G1 series will recognize the subtle change in naming scheme which corresponds to a major change in the product line. Gone are the military names and Green and Black color in favor of the popular Red and Black and a familiar icon found borrowed from the video card line.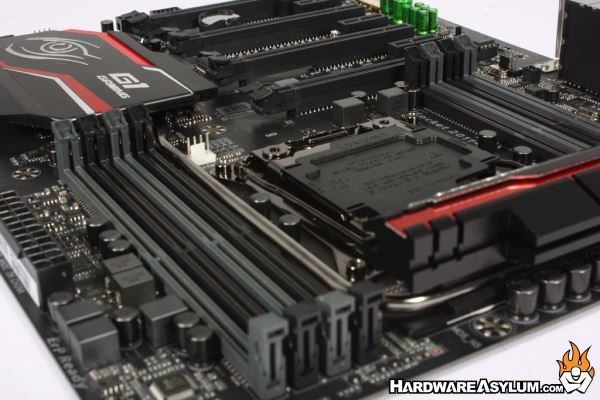 The X99 Gaming 5P represents an interesting direction for an X99 Gaming motherboard and features an aggressive 4-way capable PCI Express layout, Killer Networks Ethernet controller and one of the most impressive audio implementations we have seen and heard. The board also features many of the same OC features found on the X99 Champion including the special OC socket for enhanced Uncore overclocking.
While most "gamers" these days are rarely interested in overclocking there are a few hardware enthusiasts that prefer to pick their hardware based on how many boxes they can check. While this motherboard may not respond well to BCLK overclocking you still have the option to tweak the Uncore for maximum performance. We might suggest against LN2 with the Gaming-5P but that isn't to say you can't since all the controls you need for extreme overclocking are available in the UEFI.