Gigabyte X99 Gaming 5P Motherboard Review
Gigabyte X99 Gaming 5P Motherboard Review
Author:

Dennis Garcia
Published:
Wednesday, July 01, 2015

Conclusion
In this review we looked at the Gigabyte X99 Gaming 5P. This motherboard is part of their Champion Series using a special OC socket for the processor and includes a few other overclocking features. The Gaming 5P is also part of the G1 Gaming line which matches the motherboard up with a Killer Networks E2201 controller and special Creative Core 3D OP AMP audio solution.
Motherboard layout is rather straight forward and doesn't deviate much from what we have seen from older Gigabyte motherboards. The X99 Gaming 5P will support 4-way video card setups but is optimized for 2-way as a primary configuration. 4-way SLI and Crossfire is possible assuming your chassis comes with extra expansion slots or are running on a test bench.
Cooling is handled by two rather large heatsinks connected in succession by a black nickel plated heatpipe. This heatpipe helps to move excess heat around the system so that the heatsinks with adequate cooling can dissipate the thermal loads. Neither of the heatsinks got very warm during our testing which will help keep internal case temperatures down under extreme loads.
When it comes to overclocking we were a little confused. Normally the process of making a system go fast is pretty straight forward and with the Gaming 5P we could do just that. In fact 4.5Ghz boot with 4.3Ghz stable is pretty good for a 5690X running on "air". Unfortunately, when we tried doing BCLK tuning the motherboard would fail to boot every time and sadly this hindrance deterred us from trying some Uncore overclocking which is the only reason why you would include a special OC Socket.
Enabling the OC Socket is done via switch on the motherboard so users that feel confident in their skills can enable the socket and unclock some free memory performance. Or, you can leave the socket disabled and enjoy your X99 system the way it was intended.
Overall the Gaming 5P performed as expected and delivered performance you would expect from a gaming motherboard. There were no records broken in our benchmarks and no issues to report as everything ran without a hitch. Still, all of this left us somewhat unimpressed with the Gaming 5P but only because it came with overclocking controls that we couldn't really use or, more accurately, were likely incompatible with our test system. We would still recommend this motherboard for any Gigabyte fan and let your budget make the decision. There are certainly higher-end models to the Gigabyte X99 Gaming line and even some that come with the WiFi module. You may not get the OC Socket but, then again this is a gaming board and most gamers won't need it.
Good Things
4-Way GPU Support
Matte Black Finish
Dual M.2 Slots Onboard
Power IR Digital PWM
Killer Networks E2201
Awesome Onboard Audio
OC Socket
Bad Things
WiFi modules not included
Overclocking wasn't what we had expected
No onboard buttons or test points
6 Phase VRM?
OC Socket
New UEFI is painfully slow
Hardware Asylum Rating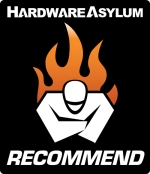 Gigabyte X99 Gaming 5P Motherboard Review
Recommend
https://www.hardwareasylum.com