Gigabyte X99 Gaming 5P Motherboard Review
Gigabyte X99 Gaming 5P Motherboard Review
Author:

Dennis Garcia
Published:
Wednesday, July 01, 2015

Board Layout and Features Continued
A re-emerging trend in heatsink design is bringing back the heatpipe that connects the VRM to the MCP (South Bridge). Generally speaking neither of these get very warm however, capacity is increased when they are connected which can aid in stability when ambient temperatures rise.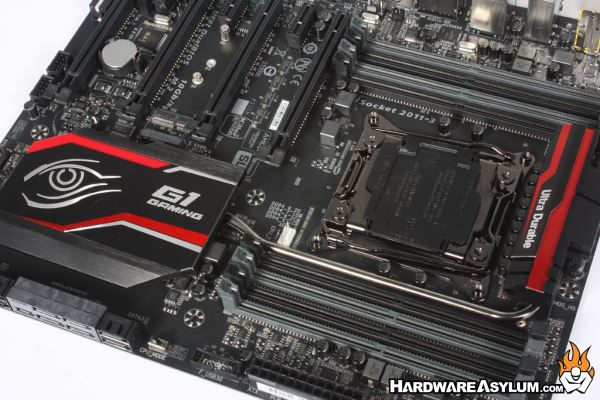 Motherboard cooling, required or not, is a great branding opportunity however, shouldn't be done without purpose. The heatpipe shows that Gigabyte is attempting to provide a good cooling solution however it is missing the heatspreader under the VRM which makes it seem incomplete.
Internal SATA connections number ten and follow the new SATA6 connection standard. Two of the ten available ports are dedicated to SATA Express which is the large block located in the center.
To compliment the new SATA Express connection you also get an internal Turbo M.2 socket for ultra compact SSDs with direct access to the PCI Express bus. These can deliver up to 20GB/s of bandwidth and are low profile enough to fit anywhere. The M.2 is located between the middle most PCI Express slots and will accept both short and long boards without modification. Keep in mind that if you use the M.2 slot the SATA Express port is disabled.
Under the M.2 you will also find another M.2 for WIFI modules allowing ultra compact expandability and freeing up your PCI Express slots for important things like video cards.
The I/O panel features many common connections and a whole lot of gold ones for improved connectivity and corrosion resistance. Along the panel you will find a dual PS/2 ports for Keyboard and Mouse, four USB 2.0 and six USB 3.0. The Yellow USB ports feature the Gigabyte USB DAC UP and are designed to provide clean noise free power to DAC devices, mice and other USB devices. The single white USB is 3.0/2.0 compatible and is for lower speed devices. There is a single RJ-45 network connection running the Killer Networks E2201 controller and the audio system features a digital connection over optical and five gold plated analog jacks.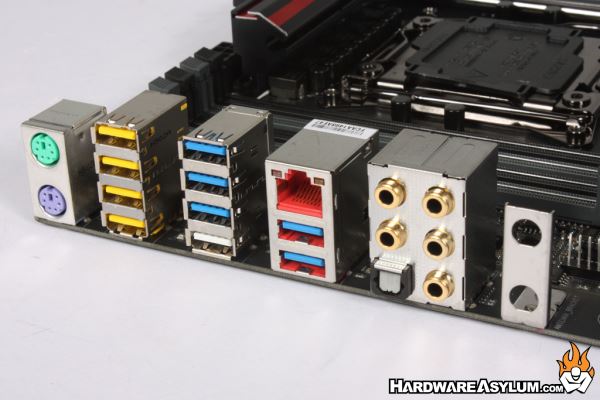 G1 Audio (from Gigabyte)
Gigabyte G1 Gaming motherboards are equipped with the Gigabyte exclusive AMP-UP Audio Technology, which provides the industry's highest level of onboard audio features and technologies. With Gigabyte AMP-UP Audio, gamers and audiophiles are able to experience crisp, ultra realistic sound effects while gaming, and the richest possible sound experience.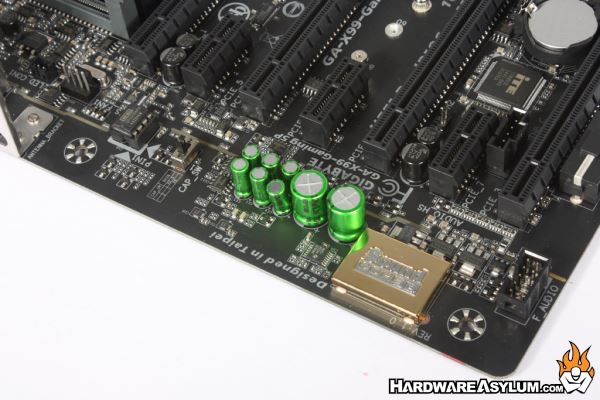 Audio Features
GIGABYTE Direct Audio Route Design
Shortest route, no wasted trace Less crosstalk & less EMI
AMP positioned close to audio jack for lowest noise
Better signal quality and better audio quality
Upgradable OP-AMP
Creative Sound Core3D Quad-Core Audio Processor
Creative SBX Pro Studio Audio Suite
High End Japanese branded Nichicon Audio Capacitors
Dedicated Audio Hardware Zone
Separation on the PCB layer protects the board's sensitive analog audio components
LED trace path lighting illuminates to show the separation of the PCB layers