Gigabyte X99 SOC Champion Overclocking Motherboard
Gigabyte X99 SOC Champion Overclocking Motherboard
Author:

Dennis Garcia
Published:
Thursday, March 26, 2015

Conclusion
The Gigabyte X99 SOC Champion is different type of X99 that is designed with a primary purpose in mind, Overclocking. This can be seen in a variety of ways from the single bank memory configuration to the sparsely populated I/O connector. Of course you can run X99 SOC Champion as a daily rig assuming you can live without luxuries like dual network controllers, on-board WiFi and few less USB connections.
Overall motherboard layout is typical for a Gigabyte design featuring a PCI Express slot layout that supports up for four graphics cards with some 1x slot connectivity scattered about. Given that this is a Super OverClock motherboard you will also find a few overclocking controls and voltage test points along the right edge of the motherboard with the remainder residing in the UEFI BIOS.
Some of the notable features include onboard SATA Express matched with an M.2 slot for super fast SSD performance. You can only use one port at a time but even with that you still have eight more SATA6 ports to handle the remainder of your storage needs. The onboard audio is also quite good and features the famous Gigabyte AMP-UP audio solution. To help eliminate any low level distortion caused by the motherboard the entire audio solution is located on physically separate section of the motherboard.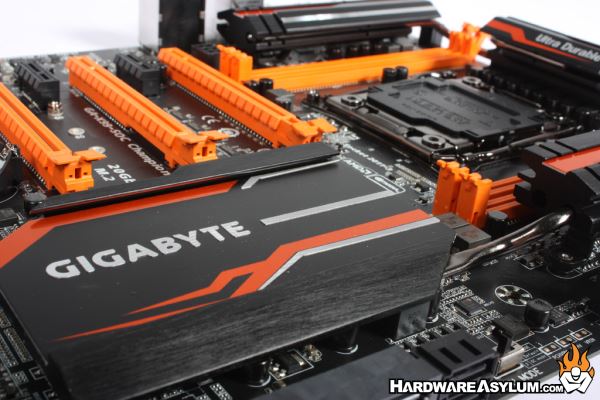 The X99 SOC Champion comes with a redesigned UEFI interface that overlays the classic/advanced menu system many of us are familiar with. The default screen is a new interface called the "Startup Guide" and gives you a simple view into the UEFI setup allowing quick access the most common features. Under that is the Dashboard that allows you to create custom layouts followed by the classic menu which is by far the easiest to use..
Like always overclocking the X99 SOC Champion is extremely easy and supports a wide variety of scenarios from straight BCLK adjustments to BCLK Strap and CPU Multiplier. For those interested in memory overclocking the enhanced LGA 2011v3 socket gives you more voltage options for overclocking the internal memory controller (Uncore) and a long list of memory sub-timings for hours of tweaking fun.
For our tests we used a Single Stage Phase Chiller to cool the processor and attain the 4.8Ghz overclock. As we mentioned earlier the goal was to hit 5Ghz and while we did hit that goal our cooling method couldn't keep the system stable enough to complete the benchmark suite. Enabling the OC socket enabled us to hit 4Ghz Uncore with very little effort provided that the memory clock was reduced down to 2400Mhz instead of at the XMP rated speed of 2666Mhz.
Good Things
4-Way GPU Support
Matte Black Finish
Efficient Heatsink Design
Uncore Overclocking Socket
SATA Express
Great Onboard Audio
Voltage test points
Power IR Digital PWM
Gold Plated CPU Socket
Trimmed Feature Design
Bad Things
New UEFI is painfully slow, but getting better
Uncore overclocking requires cold (read: LN2)
Hardware Asylum Rating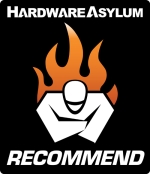 Gigabyte X99 SOC Champion Overclocking Motherboard
Recommend
https://www.hardwareasylum.com