Gigabyte X99 SOC Champion Overclocking Motherboard
Gigabyte X99 SOC Champion Overclocking Motherboard
Author:

Dennis Garcia
Published:
Thursday, March 26, 2015

Board Layout and Features Continued
Quad channel memory comes standard on the Haswell-E processors and the X99 OC Champion supports standard speed DDR4 modules at 2133Mhz with overclocking support beyond 3400Mhz. A maximum of 32GB is addressable however a 64-bit OS is required to use it all.
An interesting thing to note is that the SOC Champion only supports a single bank of DDR4 per memory channel. While some would argue that this limits addressable memory size, and it does (32 down from 64), the benefit here is better overall memory performance when overclocking.
Internal SATA connections number ten and follow the new SATA6 connection standard. Two of the ten available ports are dedicated to SATA Express which is the large block located in the center.
To compliment the new SATA Express connection you also get an internal Turbo M.2 socket for ultra compact SSDs with direct access to the PCI Express bus. These can deliver up to 20GB/s of bandwidth and are low profile enough to fit anywhere. The M.2 is located between the middle most PCI Express slots and will accept both short and long boards without modification. Keep in mind that if you use the M.2 slot the SATA Express port is disabled.
In keeping with the overclocking nature of the X99 SOC Champion you will find a rather sparse I/O panel with only the bare essentials represented. You will find separate PS/2 connections for both keyboard and mouse, four USB 3.0 ports (blue), four USB 2.0 ports (black) a single gigabit Ethernet connection, and 8 channel analog audio with digital connections over optical.
Motherboard cooling is handled by a rather unique heatsink system comprised of four individual heatsinks that are interconnected via heatpipes. The largest heatsink is over the X99 chipset which becomes also hidden once video cards have been installed. The two heatsinks that sit opposite of the memory slots are used as decoration and heat dissipation.
The final cooler is located over the primary VRM and is tasked with keeping the power supply cool and connecting everything together.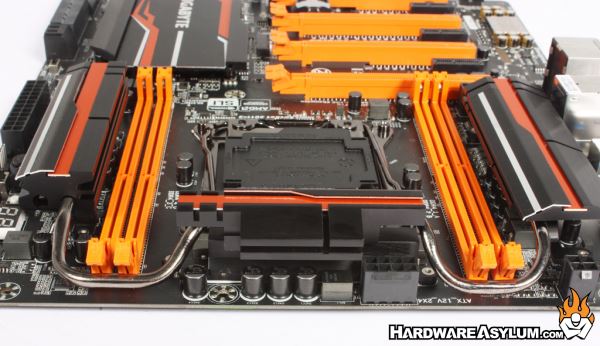 Even under heavy overclocking the motherboard heatsinks never got hot to the touch nor required any additional cooling.