Gigabyte X99 SOC Champion Overclocking Motherboard
Gigabyte X99 SOC Champion Overclocking Motherboard
Author:

Dennis Garcia
Published:
Thursday, March 26, 2015

Introduction
During Computex 2014 Gigabyte was showing a very limited edition Z97X SOC motherboard called the SOC LN2. This motherboard was specially designed for LN2 overclocking and had no provisions for aircooling due to the unique memory location. This sort of "bench only" motherboard design is something that Gigabyte has been working on for the past few years and almost have it perfected.
Before the launch of the Intel X99 chipset Gigabyte was showing several of their X99 designs and one of them that kept coming up in the news was the X99 SOC LN2. The idea behind this board was to provide a bench style overclocker borrowing many of the design ideas developed on the Z97X SOC LN2.
In this review we will be looking at the flagship product in the exciting X99 Champion Series re-launch the Gigabyte X99 SOC Champion. This is a second generation X99 Super Overclock motherboard that follows in the footsteps of the original X99 SOC Force and appears to be based on the early X99 SOC LN2 design. For those who followed our Consumer Electronics Show coverage this is also the motherboard everyone used during the OC Gathering and even during the HyperX HOT Overclocking competition.
With the re-launch of the X99 Champion Series Gigabyte is looking to extend their performance leadership by supporting some of the fastest DDR4 memory on the market and extending that support across all of the champion motherboards including the X99 SOC, G1 Gaming and Ultra Durable.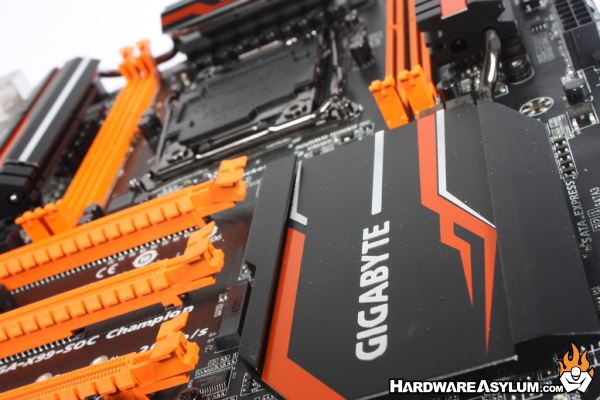 The X99-SOC Champion is a very unique motherboard and breaks the traditional mold of "more is better" when it comes to enthusiast hardware. This is also somewhat of a misnomer since the real value is the things you may not always notice or in features only used by a select few. In terms of overall features, construction and design of the SOC Champion is rather simplistic when compared to other X99 options. This approach is typically done to lower build cost but comes with a secondary benefit of enhanced performance.