Aorus Z270X Gaming 5 Motherboard Review
Aorus Z270X Gaming 5 Motherboard Review
Author:

Dennis Garcia
Published:
Tuesday, January 03, 2017

Board Layout and Features Continued
Dual channel memory comes standard on the Kaby Lake processor and the Z270X Gaming 5 supports standard speed DDR4 modules up to 2133Mhz with overclocking support beyond that. A maximum of 64GB is addressable with the proper module density.
Maybe one of the most over-to-top additions to this motherboard is the inclusion of the "Ultra Durable Memory Armor" which consists of a single piece of stainless steel shielding with a couple of intended benefits. The first is to reinforce the memory sockets to prevent PCB distortion. This makes sense considering that installing memory often introduces flex on the PCB, especially when the motherboard isn't properly mounted. (read the instructions people). The second benefit is ESD prevention due to a larger grounding surface.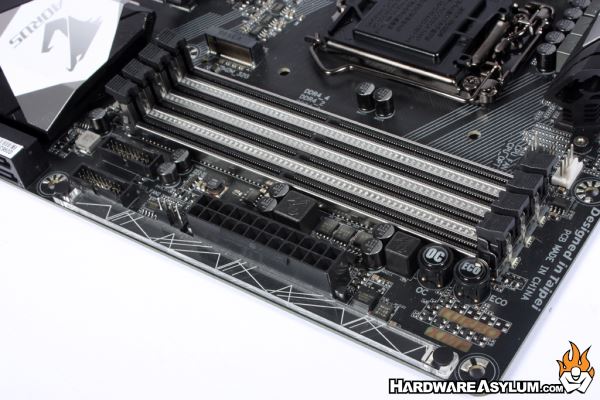 In between the slots you'll find a row of lenses which helps diffuse the RGB LED light. USB 3.0 sockets are located along the left while to the right you'll find an OC and ECO button which allow the motherboard to run in a power efficiency mode or with a slight overclock. Below the buttons are two lighted sections of the PCB indicating when XMP and Turbo are enabled.
Along the edge you'll find a rather decorative plastic part that is also an RGB LED diffuser. The lines in the plastic are edge highlighted and help to spread the light around.
NVMe SSD Support
Internal SATA connections number six and follow the new SATA6 connection standard. All are dedicated to SATA Express which are directly connected to the Z270 chipset.
The Z270 chipset comes with 24 PCI Express 3.0 lanes which is more than you get with the Kaby Lake processor. Unlike the CPU bandwidth the chipset PCIE is designed for connectivity and storage. As was mentioned before you get three SATA Express connections and two M.2 Socket 3 connections with 4x lanes of PCI Express each. A block of U.2 connectors is located along the edge of the motherboard which completes the NVMe connectivity options currently available.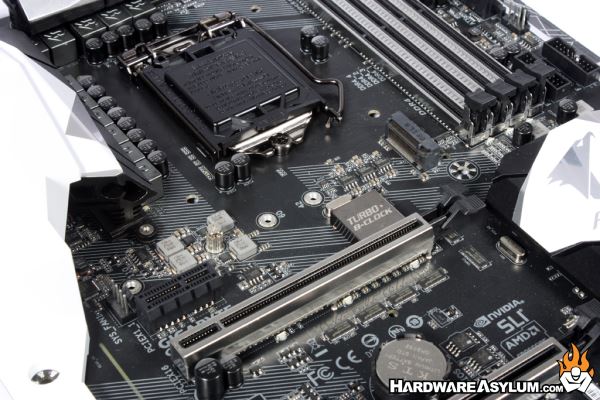 The upper M.2 allows drives up to 110mm in length while the lower slot is limited to 80mm cards only.