Aorus Z270X Gaming 5 Motherboard Review
Aorus Z270X Gaming 5 Motherboard Review
Author:

Dennis Garcia
Published:
Tuesday, January 03, 2017

Conclusion
In this review we looked at the Aorus Z270X Gaming 5 motherboard. As the name suggests this board is part of the Aorus Gaming Series by Gigabyte and can easily be the centerpiece of any high-end gaming build. One of these that I find important is the Gigabyte Amp-Up audio solution that uses real OP-AMP modules to tune the audio delivery. Of course when matched with quality drivers can deliver some amazing effects and, as our Rightmark tests indicate, excellent sound quality. Killer Networks Ethernet controllers are a common feature found on gaming motherboards and the Aorus Z270X Gaming 5 comes equipped with a single E2500 controller backed by a standard Intel Gigabit connection.
Maybe one of the most iconic features found on the Aorus Z270X Gaming 5 is the RGB Fusion LED lighting system with full spectrum lights scattered around the motherboard. These can be controlled using the included RGB Fusion application and the settings are on the motherboard. By default all of the lights are a neutral red and can be changed to any color with a variety of different effects across three different profiles.
The one setting I like most is the "Intelligent Mode" that reacts to system events such as CPU Usage, CPU Temperature, CPU Fan and can even be set to a certain schedule. Whatever lighting mode you choose you can transfer that to RGB strip lights and fans using the onboard headers.
Overall motherboard layout is quite good and follows a standard design layout that was established way back with the Z68. The design supports up to three graphics cards but is clearly optimized for dual card operation and supports the new PCI Express 3.0 standard which is native to the Kaby Lake processor. The Z270 chipset comes with 24 PCI Express 3.0 lanes dedicated to storage and connectivity. As a result you will also get two 4x M.2 sockets and three SATA Express ports each with dedicated bandwidth.
In this review I also experimented with a variety of different overclocking methods including air/water and phase. While the Single Stage Phase cooler gave me the best results your actual performance gains will be determined by the quality of your CPU and cooling method. The nice thing about the Aorus Z270X Gaming 5 is that it really is designed to deliver a great gaming experience and some pretty fancy LED effects but, if you wanted to dabble with overclocking all of the controls are there. The VRM is sized to accommodate and it really can deliver stable results beyond what you'd normally see under ambient cooling methods.
This brings me back to the question of "what makes a good gaming motherboard?" and while quality audio and high speed network make the experience better I believe it is overall appearance and configurability that separate a board you can game on from a true gaming motherboard.
Good Things
Dual Card SLI Support
Extra space between video card slots
SATA Express
Dual M.2 Slots
Power IR Digital PWM
Aorus Branding
High Quality Audio
Killer Networks Onboard
Bad Things
No onboard power and reset buttons
RGB color rendering gets washed out
Some LED lights get hidden when hardware is installed
Is SATA Express still a thing?
Hardware Asylum Rating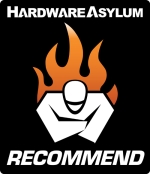 Aorus Z270X Gaming 5 Motherboard Review
Recommend
https://www.hardwareasylum.com