Aorus Z490 Master Motherboard Review
Aorus Z490 Master Motherboard Review
Author:

Dennis Garcia
Published:
Monday, September 21, 2020

Onboard and Included Features
The I/O panel is always an interesting part of the motherboard as it dictates what connectivity options will be available. Starting at the left we have two CMOS related buttons. The top button is for clearing the CMOS, a common then when overclocking while the other allows for an automatic BIOS flash for when the system is no longer operational.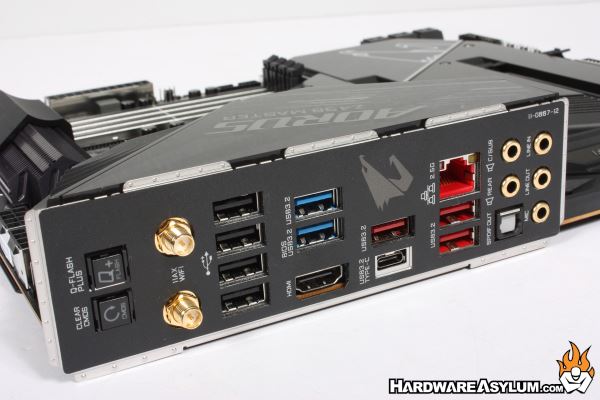 Next you'll find two WiFi antennas supporting the Intel WiFi 6 201AX connection. Everything else is pretty much USB. USB 3.2 occupies the entire I/O including a single Type-C. Gen2 are quad stacked near the BIOS buttons. The Ethernet jack with the red socket is the special 2.5G Gigabit for super speed networking. Finally we have 8-channel audio with a digital connection over optical. Audio connections are also gold plated for the extra bling and marked so you won't have to guess when plugging in your speakers.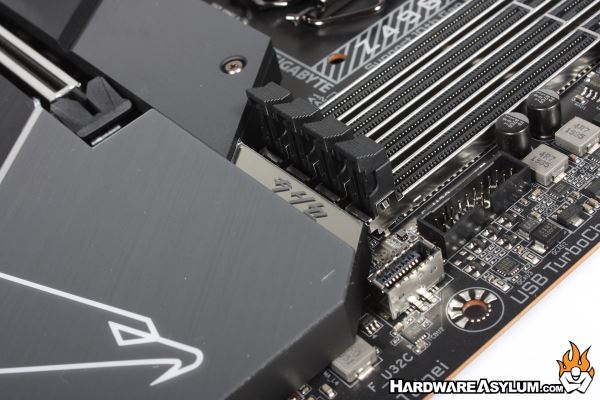 If you need more USB you'll find a variety of USB headers on the motherboard including a Type-C and 3.0 header near the SATA ports.
Onboard Audio
Onboard audio is built around the Realtek ALC 1220-VB controller. Audio is cleaned by an ESS SABER DAC (ES9118) and built on audiophile grade capacitors. By default all of this is hidden under a plastic cover but removing a couple screws will give you a look.
The tan line is the audio separation layer designed to remove noise from the motherboard and limit any ground loop interference. I have to admit I would have expected a much larger audio system but this really is all you really need.
Included Goodies
The Aorus Gaming Z490 Master motherboard comes with everything you see here. I'm not sure if it the advent of super fast M.2 drives or a cost cutting measure but I seem to remember motherboards coming with more accessories in the past. In a way It was a badge of honor in the enthusiast world which has been reduced to almost nothing.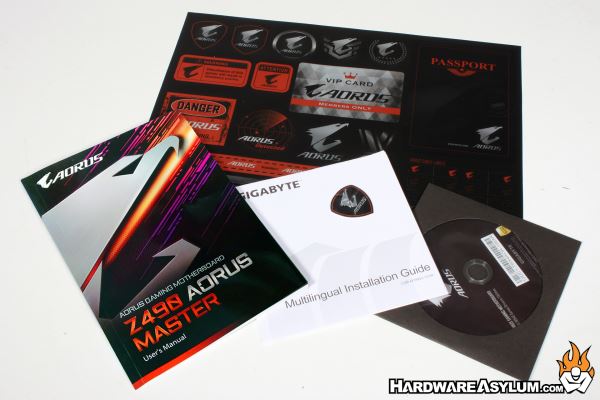 I am pleased to say that along with the four SATA cables and various other cables Aorus has included both a full user's manual and driver disk. This might be a small price to pay but the two can become invaluable during the initial setup and later on when you are called in to support the system long after Gigabyte has removed the board from their website.