ASUS ROG Maximus IX Apex Overclocking Motherboard Review
ASUS ROG Maximus IX Apex Overclocking Motherboard Review
Author:

Dennis Garcia
Published:
Tuesday, February 28, 2017

Conclusion
In this review we looked at the ASUS Maximux IX Apex. After having used this motherboard for the past several weeks I have come to two conclusions.
This is a motherboard has clearly been designed for the Overclocking Enthusiast who knows exactly what they want and isn't afraid to burn up a processor or pour a little LN2.
This is also a motherboard designed for the PC Hardware Enthusiast who many not do extreme overclocking but builds high-end systems with the intent of getting the most performance by using the best hardware.
Overall the motherboard performed extremely well with solid performance out of the box and consistent scores while overclocked. This is not uncommon for a product that is designed to be used in extreme conditions but the execution is often a deciding factor. I have used a variety of these motherboards in the past where they might be designed for overclocking but in reality they are designed for the in-house overclocker with no documentation and little support. The ASUS Maximus IX Apex is different in that you get all of the features and controls needed to be successful plus enough information to help you use everything to your advantage.
The UEFI layout is quite good and displays exactly what you need to see. This is an important feature given that many manufacturers tend to overcomplicate the interface by trying to show "everything" or do the opposite and hide everything in a list of complex menus. The ASUS UEFI is very straight forward showing you the current state of your system while giving you appropriate menus to make adjustments. I will admit the menus can get excessively long and some settings are easy to miss as a result.
When it comes to overclocking I found the Apex to be very responsive both manual and some automatic adjustments with the exception that it is very voltage heavy. For instance setting a Core i7 7700K to 5Ghz will automatically raise the CPU voltage to over 1.4v vCore! Personally I find this to be a little excessive but, might be what is needed for whatever CPU sampling they used to configure the optimized defaults.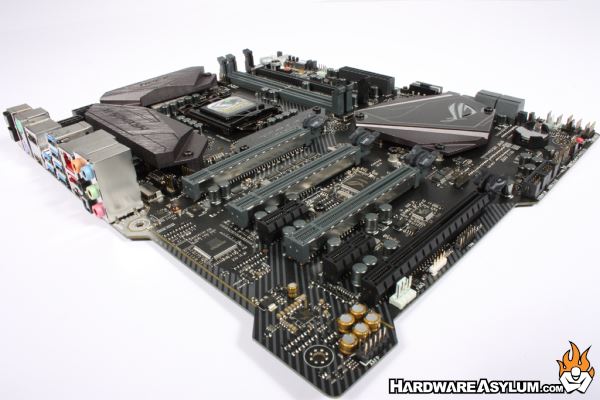 Luckly there are several settings to override these defaults and allow you to tweak and tune voltage to better suit your particular CPU. For this review I was running a Core i7 7700K at 5.61Ghz using my SS Phase chiller. My voltage was 1.46v and I raised the BCLK to 102Mhz so I could overclock the GSKill TridentZ 4133Mhz RGB modules to the magical 4266Mhz mark. This was actually quite easy to do and, with the help of my Phase cooler I could run high speed benchmarks for hours on end.
Overall I really like this motherboard. It has great style and a very innovative design with the most notable being the unique shape of the PCB and the new DIMM 2 slot for M.2 drives. This moves them out of the way for LN2 overclocking and allows you to remove them quickly, if needed. As was mentioned before the ASUS Maximus IX Apex is designed for overclocking and enthusiast use, it doesn't come with onboard Wi-Fi or Bluetooth and only a single network connection which might not be the most attractive configuration. But, the board performs and that is all that matters.
Good Things
Black Color Scheme
Oversized VRM Heatsinks
Unique Motherboard Shape
Excellent UEFI Menus
Flexible PCI Express Layout
4266Mhz DDR4 Performance
DIMM 2 M.2 SSD Card
Clean Audio
LED Strip Header
Excellent Overclocking
Excellent Voltage Control
Bad Things
Overvoltage out of the box
Hardware Asylum Rating