MSI X370 Krait Gaming Motherboard Review
MSI X370 Krait Gaming Motherboard Review
Author:

Dennis Garcia
Published:
Tuesday, May 16, 2017

Board Layout and Features Continued
Onboard Audio
The audio module found on the X370 Krait Gaming is very unique in that it features the Audio Boost design backed by a Nahemic 2 audio processor. It occupies a section of the motherboard that is electrically separated from the rest of the main PCB and is something you can physically see on the PCB.
To further illustrate that the layers are completely separate on the reverse side of the motherboard you'll find a series of white LEDs that light up and shine thru the PCB layers when the system is powered on. The MSI designers even went so far as to move the left and right audio channels to different layers of the PCB giving them more room to route traces and ensure that any interference is filtered out.
The Audio Boost design is powered by Nahimic Sound Technology and comes with a built-in headphone amplifier allowing you to get better quality sound from studio grade headgear which would normally require specialized sound cards.
Motherboard Connections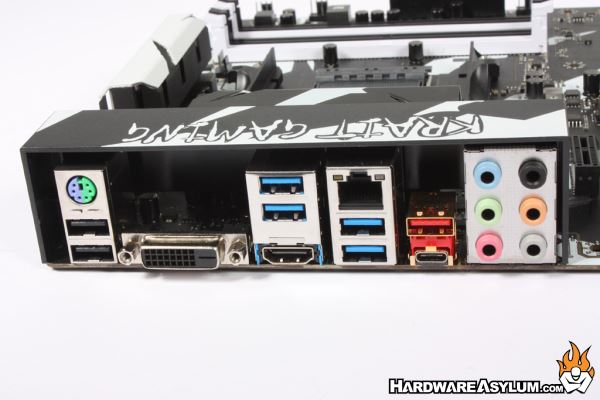 The I/O panel is rather self explanatory and quite sparse for a gaming motherboard. Staring at the left you will find a PS/2 connector for keyboard and mouse followed by two USB 2.0 connectors for low speed devices. Next to that you will find a single DVI and HDMI connection which are not used on Ryzen 7 and Ryzen 5 series CPUs. Six USB 3.1 connects are included along with a reversible Type-C and gold plated Gen 2. Standard 8-channel audio and a single Ethernet keystone using a Realtek gigabit LAN controller finish out the onboard I/O.
Included Goodies
In the box the MSI X370 Krait Gaming comes with a few accessories including what you see below.
My particular motherboard was certified by a MSI engineer and is something I have noticed with many of the gaming products released by MSI. This helps give you a little peace of mind knowing that your product will work out of the box and what kind of performance you could expect.
The X370 Krait Gaming, and any AM4 based Ryzen system, will only support two physical cards in SLI so it makes sense that you would only get a single ribbon connector. Unfortunately the included connector is not the high-bandwidth version so you'll need to source one provided that you
a) are using NVIDIA based graphics cards
b) using more than one.
Given the market segment for this motherboard, that is highly unlikely.